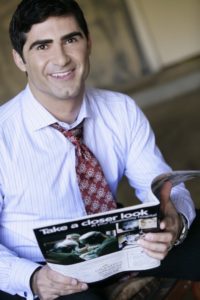 Name:  Kyriacos Tsircou
Firm, Company, title:  Tsircou Intellectual Property Law
Committee:  Small Firm/Solo Practitioner
Bio:  I am an Air Force Academy graduate and majored in Astronautical Engineering. Following graduation, I worked for the Air Force for five years focusing on managing satellites, other space systems, and communication networks.  I obtained my J.D. from Loyola Law School in 2000.  I then worked as a patent and IP lawyer for the downtown LA office of Sheppard Mullin.  In 2006, I started Tsircou IP Law, which focuses on providing patent prosecution, trademark and copyright-related services for a variety of technologies, including communications, wind turbine systems, business methods, sporting goods, pet and baby products, data encryption, and unmanned aerial vehicles.   The firm is based in DTLA and has grown to three attorneys.

What is Important about your Committee?
Our committee organizes events throughout the year that are specifically designed to address the needs of solo practitioners and small IP firms.  For example, a recent program addressed business development and growth strategies for IP firms.  In addition, our events are excellent venue in which to network with other IP lawyers.
Why did you become the Chair of your Committee?
The short answer is that I was asked.  In 2014, there was extensive conversation among the members of the Board of LAIPLA that we needed to address the needs of solos and small firms more directly.  As an outgrowth of those conversations, Mark Treitel of Quinn Emanuel asked me if I would chair the Committee. I agreed and I'm glad that I did.
What is your Committee Planning for 2018?
We intend to have two – three events in 2018, including a lunch event scheduled for February 22nd, at Loyola Law School.  This event will include a presentation that addresses issues and guidance on best practices for employment concerns geared to small firms and solo practitioners.  We will have a discussion geared towards the various aspects of employment law, labor law, and issues dealing employment for small firms.
What are you most looking forward or favorite memory of your Committee?
I am looking forward to the continued growth of the group.  We are looking to have group members become resources for one another, to aid in addressing concerns faced by small firms.  
What makes LAIPLA different from other legal organizations?
LAIPLA has a rich institutional history, which promotes a strong sense of community among its members.   
Favorite Movie or Song:
The Martian