LAIPLA Diversity Fellowship Program strengthens the IP community.
About the LAIPLA Diversity Fellowship
LAIPLA created the Diversity Fellowship in 2014 to increase diversity in the Intellectual Property ("IP") bar. Although the lack of diversity generally in the legal field has been well documented, the problem of underrepresentation in the IP bar has been discussed less frequently despite evidence suggesting that it is even more pronounced. One survey showed that minorities only comprised 9.1% of the IP bar, while women were 16.2% of the IP bar.
LAIPLA also formed the Diversity Fellowship to give law students practical skills and experience working as in-house counsel. As the legal profession has changed, more employers have sought law school graduates with hands-on, real-world skills. In turn, law students are seeking experiences that help them better understand the needs of corporate clients.
One way the Diversity Fellowship promotes inclusion and diversity in the IP bar is by equipping law students with the practical skills needed to better succeed as an attorney. The LAIPLA Diversity Fellowship provides a $7,500 stipend for a law student to work up to 10 weeks in an in-house legal department. The Fellowship is open to first and second year law students at an ABA or California accredited law school, who have an interest in practicing IP law in Los Angeles, and identify with an underrepresented group.
---
2018 Fellowship Recipients:  Chloe Stepney & Joe Barrientos
2017 Fellowship Recipient: Tim Tran
2016 Fellowship Recipients: Cathy Pham & Jennifer Tsai
2015 Fellowship Recipient: Daniel Latimer
2019 Diversity Fellows:  Skylar Williams and Jean Hyun
---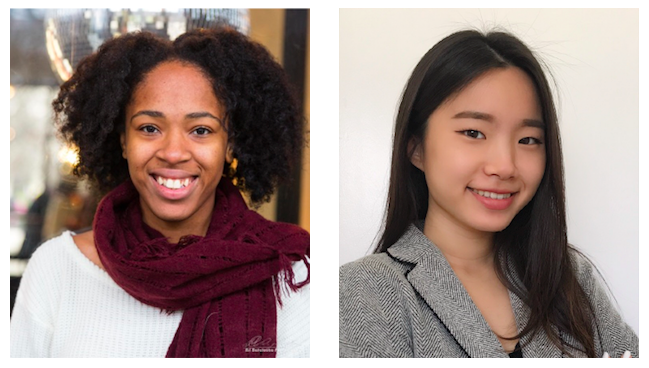 LAIPLA would like to congratulate this year's 2019 LAIPLA Diversity Fellows, Skylar Williams and Jean Hyun! LAIPLA wants to especially thank EVgo Services LLC for hosting Skylar and Harman International Industries, Inc. for hosting Jean. LAIPLA also wishes to recognize and thank this year's sponsors who graciously made these Fellowships possible by providing the stipends: Art Hasan of Lewis Roca Rothgerber Christie LLP, Carolyn Toto and James Chang of Pillsbury Winthrop Shaw Pittman LLP, and Farah Bhatti of Buchalter. This year's Diversity Outreach Committee included Bita Rahebi, Jennifer So, Chris Jackson, Erol Basol, and Jean Nguyen.
Please reach out to LAIPLA if you are interested in joining the Diversity Outreach Committee for the 2020-2021 term.
Skylar is a student currently studying at Loyola Law School in Los Angeles. Originally from Atlanta, she spent four years working in sports and entertainment with the NFL and MLS teams based in Atlanta and at Vanderbilt University, where she earned a degree in Philosophy and Cinema and Media Arts.
Her experience in media inspired her to combine her artistic and entertainment interests with her goal of establishing a fruitful legal career. Since beginning law school, she has focused her studies and extracurricular activities on intellectual property related areas with a particular focus on technological innovations and key developments in music and film related legal areas.
Skylar is very honored to be one of the 2019 LAIPLA Fellows and looks forward to continuing to grow and work with the IP community in Los Angeles. She is excited to be joining the in-house legal team at EVgo Services LLC and having the opportunity to dive into an array of legal issues and gain practical experience working with intellectual property matters.
---
Jean is a student at Loyola Law School in Los Angeles. Prior to law school, Jean studied Criminal Justice and Terrorism Studies for her Master's Program at John Jay College of Criminal Justice in New York after graduating from the George Washington University, where she earned a Bachelor of Arts in Psychology.
Jean is passionate about the growing needs for intellectual property rights in the digital age, when informational processing is changing the way people think, interact, and innovate. With her education in cross-cultural conflicts and criminal justice system, she hopes to further LAIPLA's efforts to increase diversity in the intellectual property field.
Growing up in South Korea and originally from the East Coast, Jean is happy to call Southern California home where she will build her legal career. She is excited to join the in-house legal team at Harman Internationals, the leading company in connected services, and looks forward to her growth and contribution to the LAIPLA community.