In This Issue…
The Board reversed a Section 2(e)(2) refusal of the mark CASS PARK VILLAGE, finding the mark not primarily geographically descriptive of real estate, entertainment, and restaurant services. The USPTO failed to show that the primary significance of CASS PARK is the name of a place generally known to the public. In re Olympia Development of Michigan, LLC, Serial No. 86333108 (June 10, 2016) [not precedential].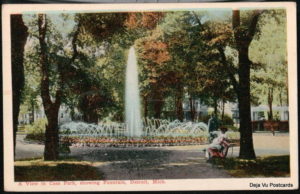 The first prong of the test under Section 2(e)(2) is "whether the primary significance of the term in the mark sought to be registered is the name of a place generally known to the public."
The Examining Attorney maintained that CASS PARK identifies a federally recognized historic district in Detroit, where applicant intends to build a development. In support, he relied on a Wikipedia entry (here) describing the Cass Park Historic District, and a printout from the Curbed Detroit blog regarding applicant's development plans for the area.
The Board found this evidence insufficient to support the refusal to register.
While both pieces of evidence have some probative value, absent other evidence to support the proposition that consumers have been exposed to the term "Cass Park" and are aware of its geographic significance, we cannot find that it is a generally known geographic location. Newbridge Cutlery, 113 USPQ2d at 1450-51 ("The internet (and websites such as Wikipedia) contains enormous amounts of information: some of it is generally known, and some of it is not. … [T]he mere entry in a gazetteer or the fact that a location is described on the internet does not necessarily evidence that a place is known generally to the relevant public.")
The Board distinguished a case involving the mark FOUNTAIN HILLS for real estate development services because there, the applicant listed Fountain Hills, Arizona as its address, and other evidence showed that "'Fountain Hills' is 'the name of the place where the services are rendered' rather than 'an indication of the source of applicant's real estate services.'"
[O]n this record, it is not readily apparent how the term CASS PARK is primarily geographically descriptive of the services identified in the application. This is not to say that we might not reach a different result on a different record, such as one that might be
adduced in an inter partes proceeding or when Applicant files a Statement of Use.
And so the Board reversed the refusal.
Read comments and post your comment here.