The Board reversed a refusal to register the mark shown below, comprising the configuration of a headset, for "headsets for RF communications …," finding that the mark had acquired distinctiveness. Applicant showed that it income from sales of the products has been high, that it has a 60% market share, that it used "look for" advertising to promote the mark, and that it is industry practice to include distinctive designs on headsets. In re HM Electronics, Inc., Serial No. 86162961(November 17, 2016) [not precedential].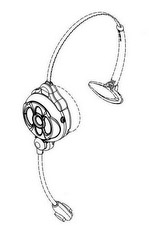 Applicant's mark did not include the over-the-head band, the ear cushion, the buttons, and the boom microphone. As we know, product configuration marks cannot be inherently distinctive. Applicant claimed acquired distinctiveness under Section 2(f). The Board noted that "[a]n application faces a heavy burden in establishing the distinctiveness of a product design."
Declarations from applicant's vice president of marketing stated that the mark has been in use for about 5 years and revenues have exceeded $35 million dollars. Applicant's headsets are the top seller in the QSR (Quick Service Restaurant) industry. Applicant has spent 1.25 million dollars in advertising. The headset was designed to be visually distinctive, and manufacturers in the field design their headsets to have unique looks. Applicant's advertising has included the caption, "Look for the unique earpiece design."
A declaration from a customer stated that the shape and look of applicant's headset is immediately associated with applicant. Applicant's Senior Engineering Manager averred that the three major headsets in the field make their headsets look visually different, so that each headset is identifiable by the look of the headset.
Industry practice was a key factor in In re Black and Decker Corp., 81 USPQ2d 1841 (TTAB 2006), in which the Board found acquired distinctiveness in a design for a key head. [TTABlogged here].
And so the Board found that applicant's evidence established acquired distinctiveness.