The Board had it up to here with Plaintiff Gary W. Stuckle's lack of cooperation in this opposition proceeding. His transgressions included failing to adhere to the Board's scheduling orders, repeatedly interposing groundless objections to Defendant Gregory Merkel's discovery requests, and ignoring two Board orders requiring verified interrogatory answers and proper responses to document requests. The Board entered judgment against Stuckle as a sanction, under Trademark Rule 2.120(g)(1) and Fed. R. Civ. P. 37(b)(2)(A)(vi). Gary W. Stuckle v. Gregory Merkel, Opposition No. 91203258 (July 20, 2016) [not precedential].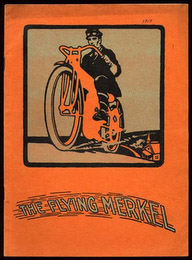 Plaintiff Stuckle asserted two registrations, one for FLYING MERKLE and the other the design+word mark shown above. Merkel counterclaimed to cancel the registrations on several grounds. Stuckle withdrew his notice of opposition but Merkel opted to purse his counterclaims.
The Board has patiently informed Stuckle of his obligations many times, even going so far as to direct Stuckle to Board resources, and to provide detailed guidelines for proper discovery responses, certificates of service, and verification of answers to interrogatories. Moreover, the Board previously warned Stuckle twice – in the November 25, 2015, order granting Merkel's motion to compel and in the February 10, 2016, order following the conference preceding Merkel's motion for sanctions – that if he failed to comply with the Board's orders then Merkel's remedy would lie in a motion for sanctions under Trademark Rule 2.120(g)(1).
Despite the Board's warning, Stuckle still failed to provide proper discovery responses and continued to ignore Board deadlines.
After careful consideration of Stuckle's arguments and explanations, and given the continuing nature of Stuckle's violations despite multiple prior admonitions from the Board, we conclude that any sanction short of judgment would be futile and unfair to Merkel,who, despite diligent efforts, has been unable to move the case forward due to Stuckle's intransigence.
And so the Board granted the counterclaim for cancellation of Stuckle's regsitrations.