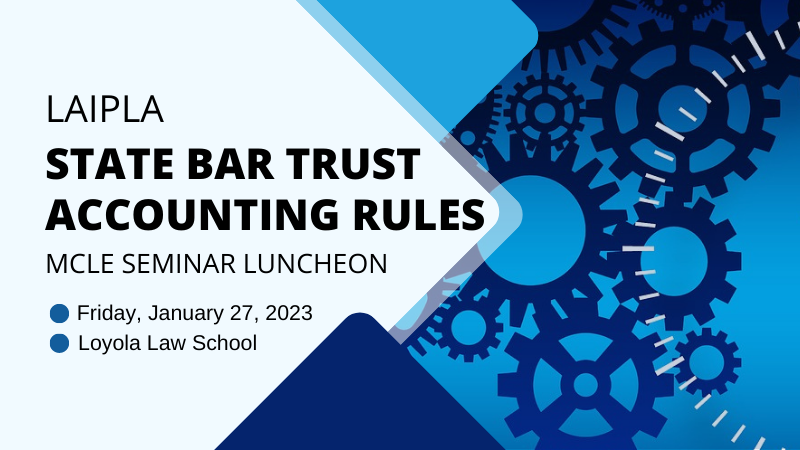 (CANCELED) Small Firm Luncheon – State Bar Trust Accounting Rules
Friday, January 27, 2023
The State Bar trust accounting rules are changing in 2023!  Do you know what's changing?  How to comply?  Find out what you need to do to stay off of the State Bar's radar screen.  Please join the LAIPLA Small Firm Outreach Committee for an MCLE presentation (1.0 hours in ethics) as Patrick Maloney, of the Maloney Firm, walks us through the changes and answers your questions.  Lunch is included.
**Los Angeles Intellectual Property Law Association (provider # 2083) certifies that this activity has been approved for MCLE credit by the State Bar of California in the amount of 1.0 hour in Ethics.
PARKING
Parking is not included with attendance. Parking is available for $11 at the Loyola parking lot.
PRICING
(Includes boxed lunch)
LAIPLA Member: $35 ($45 after January 20)
Non-Members: $45 ($55 after January 20)
Loyola Law Students & LAIPLA Student Members: $20 ($30 after January 20)
Law Student Non-Members***: $30 ($40 after January 20)
***Any Law Student Non-Member may sign up to become a LAIPLA Student Member for free. Sign up
CANCELLATION POLICY

Pre-registration deadline is Friday, January 20, 2023. After Friday, January 20, 2023, the registration fee increases by $10. Cancellations must be received by the pre-registration deadline of Friday, January 20.
SPEAKERS
Patrick M. Maloney is the founder and principal of The Maloney Firm, APC, a boutique litigation firm in El Segundo, California.  Mr. Maloney represents and has represented businesses and high net worth individuals in shareholder and partnership disputes, employment disputes, real estate matters, and in disputes between lawyers and their clients involving legal malpractice, breach of fiduciary duty, and fee disputes.  In disputes arising from disagreements between attorneys and their clients, Mr. Maloney has handled matters involving trust account violations, conflicts of interest, legal malpractice, contingent fee agreements, billing fraud, and overcharging. Mr. Maloney served as a member of the California State Bar Committee on Mandatory Fee Arbitration and currently serves on the Board of the Los Angeles County Bar Association's fee arbitration service.  Mr. Maloney publishes and speaks on issues relating to legal fees, retainer agreements, and legal ethics.  Mr. Maloney has also testified as an expert witness and served as a consultant in attorney client fee disputes in court and in arbitration.
---
SPONSORS
Diamond Sponsors

For over 20 years, ForensisGroup has provided the nation's top law firms with highly qualified expert witnesses and consultants. Experts referred by ForensisGroup have been thoroughly evaluated based on experience, education, track record, client feedback and much more. Over 8,000 clients have retained our experts in more than 10,000 cases nationwide. ForensisGroup takes a multi-disciplined approach, referring our clients to experts of various disciplines that may have an impact on the issues of the case. Clients benefit from free initial discussions with experts to gain better technical or scientific knowledge about their case. We offer free no-obligation recruiting.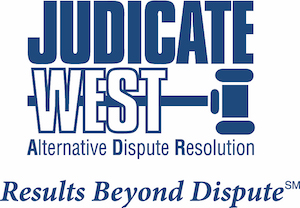 Silver Sponsors
DATE AND TIME
THIS EVENT HAS BEEN CANCELED
LOCATION
Loyola Law School, Hall of the 80's
919 Albany St, Burns 240, Los Angeles, CA 90015