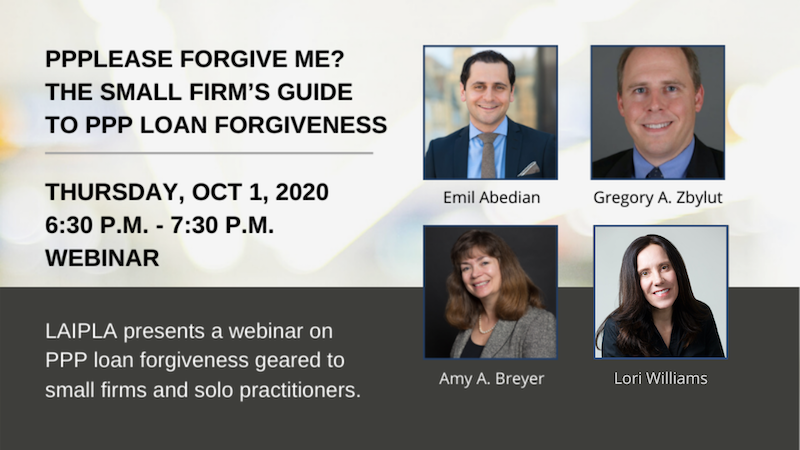 PPPlease Forgive Me? The Small Firm's Guide to PPP Loan Forgiveness
Thursday, October 1, 2020
Webinar
LAIPLA will present a webinar on PPP loan forgiveness geared to small firms and solo practitioners. With experts, we will discuss the evolving rules for PPP loan forgiveness and strategies for small law firms interested in applying for PPP loan forgiveness. This event will also include a Q&A session.
**Los Angeles Intellectual Property Law Association (provider # 2083) certifies that this activity has been approved for MCLE credit by the State Bar of California in the amount of 1.0 hour.
PRICING
LAIPLA Members: $5 ($15 after September 25)
Non-Members: $20 ($35 after September 25)
Combo event and individual membership: $85 ($100 after September 25)
CANCELLATION POLICY
Pre-registration deadline is Friday, September 25, 2020. After Friday, September 25, 2020, the registration fee increases by $10 for members and $15 for non-members. Cancellations must be received by the pre-registration deadline of Friday, September 25, 2020.
SPEAKERS
Panelists
Emil Abedian, Abedian & Totlian
Emil Abedian, CPA is the founder and CEO of Abedian & Totlian, An Accountancy Corporation, specializing in accounting, tax and law firm management services for solo and small law firms.
After spending his youth in Uppsala, Sweden, Emil went on to study accounting and earned a Masters in Business and Economics from Uppsala University. As a young accountant, Emil took employment with the Stockholm branch of Ernst & Young and focused his efforts on international clients in the United States and United Kingdom.
In 2007, Emil relocated to Los Angeles and began to build family and community roots. After moving to the States, Emil took a position with JH Cohn LLP as a financial auditor. Emil founded Abedian & Totlian, An Accountancy Corporation in 2009. With a focus on law firm management, Abedian & Totlian uses a blend of technology and expertise to liberate their law firm clients from the minutiae of back-office management allowing them to focus on the needs of their clients. Abedian & Totlian's tax planning and business structuring help law firms reduce tax liability, increase their bottom line, and give them the guidance needed for practices to grow.
Emil is an avid participant of local CPA organizations and holds memberships in both the California Society of Certified Public Accountants (CalCPA) and the American Institute of Certified Public Accountants (AICPA). Emil is also a board member and CFO of the Swedish-American Chamber of Commerce of Los Angeles (SACC-LA).
Gregory A. Zbylut, Singer Burke Zimmer
Greg was voted a southern California Super Lawyer for 2020, 2019 and 2018, and a Rising Star for five years before that. He's currently a tax manager and in-house counsel at Singer Burke Zimmer, a premier business management firm in Encino. He has nearly fifteen years of experience as a tax attorney and estate planner, and is one of the fewer than 400 attorneys in California to have passed the specialization exam and met the rigorous requirements to become a Certified Tax Specialist. Prior to law school, Greg worked as a CPA and financial analyst.
Greg, who holds both a JD and an MBA from Loyola University in Chicago, has worked for and with clients ranging from individuals to Fortune 500 companies. Greg is currently serving his second term on the Beverly Hills Bar Association Board of Governors, and has chaired the Beverly Hills Bar and Los Angeles County Bar (LACBA) Association's Taxation Sections, the Corporate and Pass-through Subcommittee of the State Bar of California (now the California Lawyer's Association) and the LACBA State and Local Tax Subcommittee.  He has also chaired the Illinois State Bar Association's Federal Taxation Section.
When he's not working, Greg enjoys spending time with his two and four-legged family members, golfing and volunteering with the Pasadena International Film Festival.
Lori Williams, Business Simply Put ®
Lori Williams is a business consultant, speaker, and writer. She has over 25 years of experience in strategic planning, finance, marketing, and operations.
Her company, Business Simply Put ® www.BusinessSimplyPut.com provides business information, education, and advice. Services include:  eAdvice to answer business questions, eTools which includes eBooks and Financial Models and eKnowledge to learn through videos and customized training programs.
Lori is a well-known expert on business finance. She believes entrepreneurs should have a basic understanding of their company's finances. She is the featured writer for Start-Up Nation and other high-profile sites. Her eBooks are distributed through Amazon and iTunes.
Lori holds an MBA from Pepperdine University, BS Business and Management, an AA in Medical Science, and a Practitioner's license in NeuroLinguistic Programming. She has an abundance of energy and believes anything is possible if you work hard and are committed to your dream.
When she's not working, Amy volunteers with several animal-related charities and serves as pro bono counsel for the Pasadena International Film Festival.
Moderator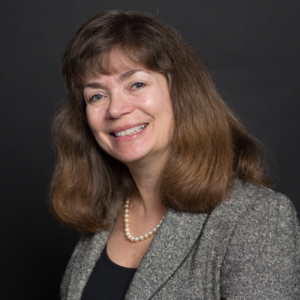 Amy A. Breyer, Breyer Andrew LLP
Amy focuses her practice on intellectual property, entertainment, business and litigation. She represents technology startups, emerging creatives and nonprofits in all phases of project development, IP protection and contracts. She also has extensive experience in all stages of trial and appellate litigation, both state and federal, plaintiff and defense, handling a wide range of contract, tort, statutory and constitutional claims, as well as representing clients in mediation and arbitration.
Amy is active with the Los Angeles County Bar Association's Small Firm and Sole Practitioner Section as well as the SoCal Works! Committee of the Association of Corporate Counsel.  Before moving to California a few years ago, Amy chaired the Chicago Bar Association's Solo-Small Firm Committee, served on the Illinois State Bar Association's Agricultural Law Section, founded animal law sections for both the Chicago and Illinois bars, taught several semesters as an adjunct professor at DePaul College of Law, wrote articles and guest lectured on various topics at legal conferences across the country, including the Illinois, Texas and Washington State Bar Associations, and law schools including Yale, University of Chicago, Northwestern and UCLA.
Amy graduated from Northwestern University School of Law in Chicago. While there, she interned with the Cook County State's Attorney Office, the U.S. Attorney's Office for the Northern District of Illinois and the Hon. Ruben Castillo, United States District Court, Northern District of Illinois. She also founded a student chapter of the Animal Legal Defense Fund.
When she's not working, Amy volunteers with several animal-related charities and serves as pro bono counsel for the Pasadena International Film Festival.
DATE AND TIME
Thursday, October 1, 2020
6:30– 7:30 PM
LOCATION
Registrants will receive a Zoom link to participate in the webinar.