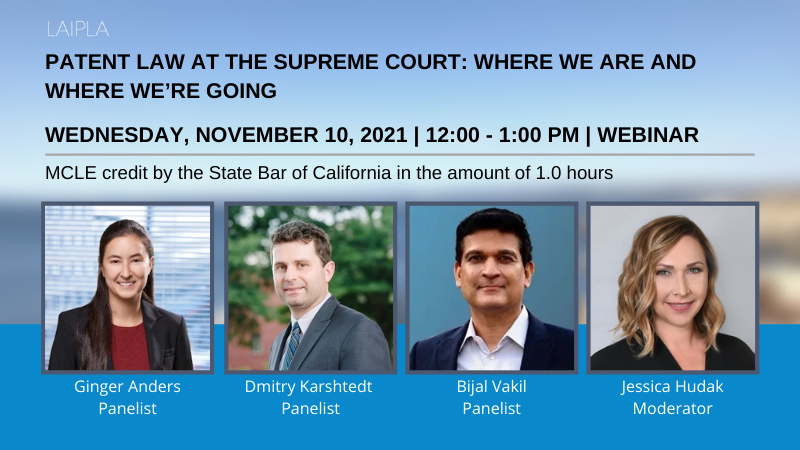 Patent Law at the Supreme Court: Where We Are and Where We're Going
Wednesday, November 10, 2021
Zoom webinar
An esteemed panel will provide unique insights on patent issues currently pending before the Supreme Court, from the perspectives of appellate and trial practitioners, in-house counsel, and the academic community.  Key issues include the lawfulness and reviewability of the PTAB's discretionary denials of institution under the NHK-Fintiv rule, the preclusion doctrine under Kessler v. Eldred, and the latest challenges to the framework for determining whether an invention is patent-eligible under 35 U.S.C. § 101.
**Los Angeles Intellectual Property Law Association (provider # 2083) certifies that this activity has been approved for MCLE credit by the State Bar of California in the amount of 1.0 hours.
PRICING
LAIPLA Members: 
$25 ($35 after October 31)
LAIPLA Student Members / Young Attorney: $15 ($25 after October 31)
LAIPLA In-House & Corporate Members: $20 ($30 after October 31)
Non-Members: $35 ($45 after October 31)
CANCELLATION POLICY

In order to receive a refund, notice of cancellation must be received by Friday, November 5th to office@laipla.net. Refunds will not be issued for cancellations received after Friday, November 5th.
SPEAKERS
Ginger Anders, Partner, Munger, Tolles & Olson
Ginger Anders, a partner in Munger, Tolles & Olson's D.C. office, has argued 18 cases before the U.S. Supreme Court.  Ms. Anders joined the firm from the U.S. Department of Justice, where she served as an Assistant to the U.S. Solicitor General and a Deputy Assistant Attorney General in the Office of Legal Counsel.  She has extensive experience in intellectual property law, particularly patent law, as well as transnational litigation and the Foreign Sovereign Immunities Act, administrative law and constitutional law.
Ms. Anders represented the United States in the most significant patent cases decided by the U.S. Supreme Court in recent years.  She argued for the government in Teva Pharmaceuticals v. Sandoz, which established the standard for appellate review of factual findings in patent claim construction, and Commil v. Cisco Systems and Limelight Networks v. Akamai Technologies, both of which concerned the scope of liability for inducement of patent infringement.  Ms. Anders also wrote the government's briefs in the landmark line of patent-eligibility cases that began with Bilski v. Kappos and continued through Alice Corp. v. CLS Bank.  She has worked extensively with numerous federal agencies, including the Patent and Trademark Office and the Departments of State and Treasury.
Ms. Anders clerked for Justice Ruth Bader Ginsburg (2004-2005), Judge Sonia Sotomayor at the Second Circuit (2003-2004), and Judge Gerard E. Lynch at the U.S. District Court for the Southern District of New York (2002-2003).  Ms. Anders has been recognized by Chambers USA as "Up and Coming" in nationwide appellate law.
---
Dmitry Karshtedt, Associate Professor of Law, George Washington University Law School
Professor Karshtedt's primary research interest is in patent law.  His legal scholarship has been published in the Iowa Law Review, Vanderbilt Law Review, and Harvard Journal of Law & Technology, among other outlets, and cited in three of the leading patent law casebooks, a casebook on intellectual property, and several treatises.  Professor Karshtedt's academic work has won several awards, including the Samsung-Stanford Patent Prize and the scholarship grant for judicial clerks sponsored by the University of Houston Law Center Institute for Intellectual Property and Information Law.
Before going into law, Professor Karshtedt completed a Ph.D. in chemistry from U.C. Berkeley and worked as a staff scientist for a semiconductor materials startup.  He is a co-author on five scientific publications and a co-inventor on twelve U.S. patents.  Professor Karshtedt received his law degree from Stanford Law School, where he served as the Senior Symposium Editor for the Stanford Law Review.  Professor Karshtedt practiced in the Patent Counseling and Innovation Group at Wilson Sonsini Goodrich & Rosati and clerked for the Honorable Kimberly A. Moore on the U.S. Court of Appeals for the Federal Circuit.  Immediately prior to starting his position at GW, Professor Karshtedt was a Fellow at the Center for Law and the Biosciences at Stanford Law School. Professor Karshtedt is currently a Visiting Scholar at the Center for Biomedical Innovation Law at the University of Copenhagen.

---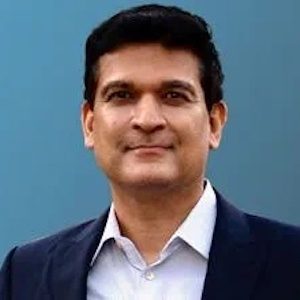 Bijal Vakil, Partner, Global Co-Head Of Technology, Silicon Valley, Allen & Overy
Bijal serves as the global co-head of the firm's Technology practice. He is a partner in the Intellectual Property practice in the Silicon Valley office. He successfully represents technology companies across their life cycle. He also has an impressive record of accomplishment litigating complex patent cases in district courts, the International Trade Commission, and before the Federal Circuit. The knowledge and insight he brings to the most complex technology and intellectual property matters globally make him a valued asset for companies ranging from those on the Fortune 100 list to Silicon Valley start-ups.
Bijal's practice covers a wide range of technologies, including computer software, semiconductors, drones, e-commerce, social media, payments, autonomous vehicles, consumer electronics, telecommunications, video games, medical devices and innovative uses of blockchain technology in cryptocurrency. His technology practice includes serving as lead counsel in hundreds of contentious patent matters, leading US and cross-border deals, strategizing on complex technology transactions and forming technology alliances in trailblazing industries.
The legal community recognizes Bijal's unique skill set. He was selected to serve in various court committees in the United States District Court, Northern District of California, including (1) Co-Chair of the Lawyer's Representative Committee; (2) Chair of two Magistrate Judge Selection Committees; (3) Member of Magistrate Judge Reappointment Committee; and (4) Mediator, Court's Alternative Dispute Resolution Program.
Bijal strongly believes in keeping the door open for others. To that end, he served on the Executive Committee of the National Asian Pacific Bar Association (along with various other positions), Committees for the National South Asian Bar Association, the NAPABA Law Foundation Board, as President of the Asian Pacific Bar Association of Silicon Valley (along with various other roles) and as President of the Asian Law Alliance (along with various other roles).
---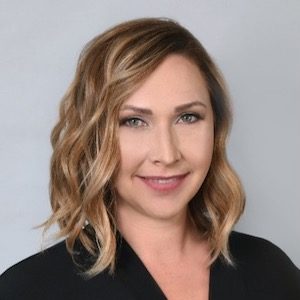 Jessica Hudak (Moderator) – Lead Counsel, Advanced Technology at Edwards Lifesciences Corp.
Jessica A. Hudak currently serves as Lead Counsel, Advanced Technology for Edwards Lifesciences in Irvine, CA.  Prior to joining Edwards, Jessica was an associate at Gibson Dunn where she was a member of the firm's Intellectual Property and Appellate and Constitutional Law Practice Groups.  Jessica managed the firm's monthly Federal Circuit client update and also worked on the firm's SCOTUS update.  Jessica previously served as a law clerk to Chief Judge Sharon Prost of the United States Court of Appeals for the Federal Circuit.
---
SPONSORS
Diamond Sponsor

For over 20 years, ForensisGroup has provided the nation's top law firms with highly qualified expert witnesses and consultants. Experts referred by ForensisGroup have been thoroughly evaluated based on experience, education, track record, client feedback and much more. Over 8,000 clients have retained our experts in more than 10,000 cases nationwide. ForensisGroup takes a multi-disciplined approach, referring our clients to experts of various disciplines that may have an impact on the issues of the case. Clients benefit from free initial discussions with experts to gain better technical or scientific knowledge about their case. We offer free no-obligation recruiting.
DATE AND TIME
Wednesday, November 10, 2021
12:00 – 1:00 PM
add to calendar
LOCATION
Zoom webinar