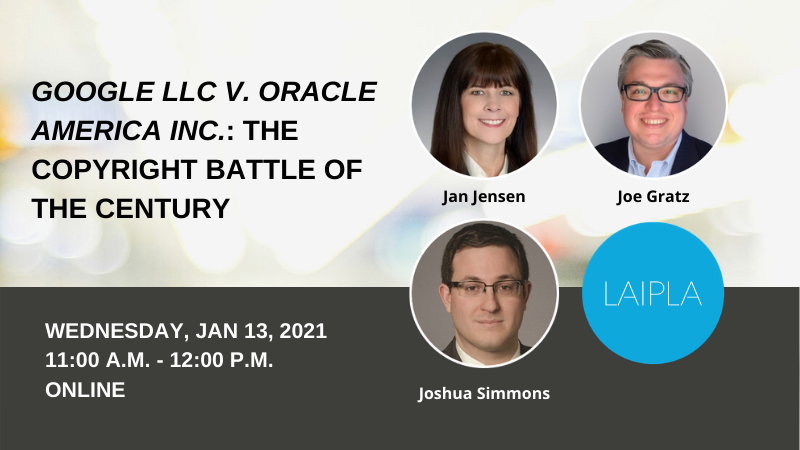 Google LLC v. Oracle America Inc.: The Copyright Battle of the Century
Wednesday, January 13, 2021
Webinar
Google LLC v. Oracle America Inc. has been heralded as the "Copyright Case of the Century," raising questions that go to the core of copyright law's copyrightability and fair use doctrines.  In this discussion, Jan Jensen (Jensen Law Firm) will explore with Joe Gratz (Duri Tangri) and Joshua Simmons (Kirkland & Ellis) the litigation and the potentially long-term implications of the Supreme Court's decision, which extend far beyond the software industry.
Los Angeles Intellectual Property Law Association (provider # 2083) certifies that this event has been approved for MCLE credit by the State Bar of California in the amount of 1.0 hours.
PRICING
LAIPLA Member (Early Bird): $25 ($35 day of)
Non-Members (Early Bird): $35 ($45 day of)
LAIPLA In-House Members: $20 Early Bird ($30 day of)
LAIPLA Student Member: 
$15 ($25 day of)
LAIPLA Young Professionals: 
$15 ($25 day of)
CANCELLATION POLICY
In order to receive a refund, notice of cancellation must be received by Friday, January 8th to office@laipla.net. Refunds will not be issued for cancellations received after Friday, January 8th.
DATE AND TIME
Wednesday, January 13, 2021
11:00 AM – 12:00 PM
add to calendar
LOCATION
Webinar