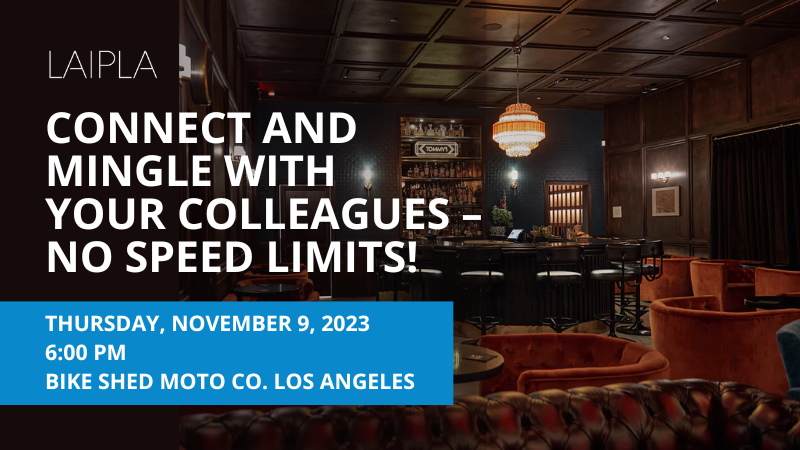 Connect and Mingle with your Colleagues – No Speed Limit!
Thursday, November 9, 2023
Bike Shed Moto Co.
Attention LAIPLA small firm attorneys! Cruise to the carpool lane at Bike Shed in LA. As an IP attorney, you know the importance of staying ahead, and we're giving you the opportunity to hit all the green lights!
Speed Networking Session: Start your engines and get ready to connect at full throttle! This rapid paced session will ensure you meet fellow IP professionals in quick succession. It's fast, efficient, and fun!
While you're refueling with our complimentary appetizers, you can explore a range of beverages or any of the Bike Shed's other gourmet offerings available for purchase.
Shift gears from your regular routine and floor it to an evening of rapid connections, rich insights, and roaring good times!
PARKING
Parking is available at at the Northeast corner of Industrial and Mill Street. There is a self-pay machine. Motorcycle Parking is available onsite.
PRICING
CANCELLATION POLICY
In order to receive a refund, notice of cancellation must be received by Friday, November 3, 2023 to office@laipla.net. Refunds will not be issued for cancellations received after Friday, November 3, 2023.
Gold Sponsor
DATE AND TIME
Thursday, November 9, 2023
Time: 6:00 – 8:00 PM
add to calendar
LOCATION
Bike Shed Motor Co.
1580 Industrial St, Los Angeles, CA 90021 (L.A. Arts District)