Have you ever heard of Bjni? Me neither. The Board reversed a Section 2(e)(2) refusal to register BJNI, in the stylized form shown below, finding the mark not primarily merely geographically descriptive of "mineral and carbonated waters." In re Vili Group Inc., Serial No. 86285733 (July 14, 2016) [not precedential].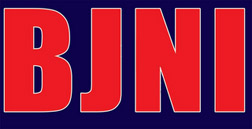 The first prong of the standard test under Section 2(e)(2) requires that the primary significance of the mark be the name of a place generally known to the public. The Examining Attorney maintained that Bjni is a generally known geographic place, namely, Bjni, Armenia. Applicant did not dispute that Bjni is a geographic location, or that its goods originate in Bjni, but it contended that Bjni is not generally known and that Bjni is a village so small that consumers in this country "would not recognize it as indicating the geographical source of the actual water products to be sold under the BJNI name."
The Examining Attorney relied on a Wikipedia entry (here) describing Bjni as a village in Armenia with a population of just over 3000 people. The entry discusses Bjni's history and a medieval fortress and church, but makes no mention of mineral water. Travel websites mention the fortress and the church. Several mention mineral springs in Bjni, but only applicant's website (here) focuses on Bjni as a village known for its mineral spring water.
The Board found that the record evidence failed to support the refusal because it did not establish that Bjni is a generally known geographic location. Nearly all the evidence came from obscure foreign sources and was not probative of consumer perceptions in this country.
The brief Wikipedia entry has some probative value, but without additional evidence the Board could not find that Bjni is a generally known location. See In re Newbridge Cutlery, 113 USPQ2d 1445, 1450 (Fed. Cir. 2015) (the record must include substantial evidence to support a conclusion that the mark identifies a place "known generally to the relevant American public.").
And so the Boar affirmed the refusal.