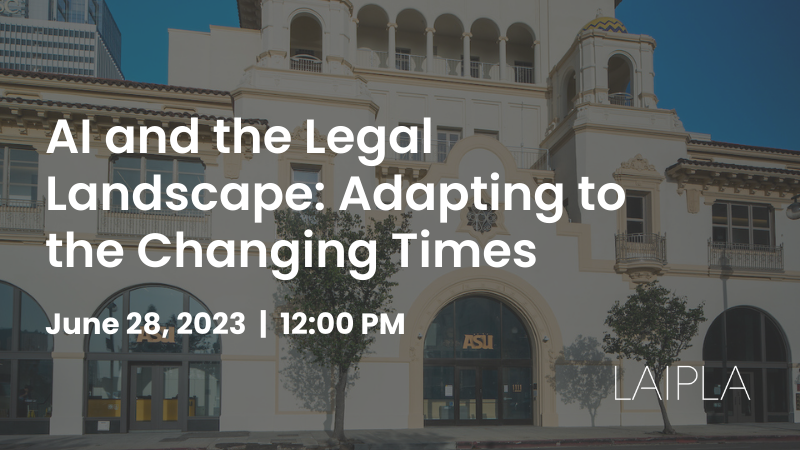 AI and the Legal Landscape: Adapting to the Changing Times
Wednesday, June 28, 2023
ASU in California, Herald Examiner Building
Join us for a thought-provoking MCLE event that will explore the timely and relevant topic of AI and its impact on the legal profession. Our distinguished speaker David Bailey, Esq. (Founding Partner – Kauth, Pomeroy, Peck & Bailey LLP) will address the pressing questions surrounding AI, including potential legal issues that may arise for clients who embrace this emerging technology. From the importance of checking the provenance of training data, to protecting intellectual property rights and understanding the patentability of AI-driven technology, this event will offer invaluable insights for legal professionals. Don't miss this opportunity to gain a deeper understanding of the implications of AI and prepare for the future of the legal landscape. Snacks and light refreshments will be provided.
**Los Angeles Intellectual Property Law Association (provider # 2083) will seek approval from the State Bar of California for MCLE credit in the amount of 1.0 hour.
PARKING
There are several public parking garages and surface lots nearby that offer hourly and daily parking.  ASU's website offers more guidance regarding transportation and accommodations.  In particular, there is a link to a google document referencing many parking options.
PRICING
This event is free, but due to limited space, registration is limited to the first 30 people
---
Speaker
David Bailey, Founding Partner, Kauth, Pomeroy, Peck & Bailey LLP 
David's practice specializes in developing and enforcing IP portfolios on behalf of cutting edge technology companies and leading research universities including Caltech, NASA's Jet Propulsion Laboratory, Stanford, and UCLA.
David has extensive experience in guiding KPPB's clients through diligence processes associated with fundraising, acquisition and successful IPO. Among David's current "portfolio" of clients are companies in the portfolios of Andreessen Horowitz, Battery Ventures, Benchmark Capital, Bessemer Venture Partners, the Facebook Fund, Globespan Capital Partners, Google Ventures, Granite Venture Partners, InnoCal Venture Capital, Intel Capital, InterWest Partners, In-Q-Tel, Oak Investment Partners, Momentum Venture Management, O'Reilly AlphaTech Ventures, Red Rock Ventures, Rincon Ventures, Sequoia Capital, and Silicon Valley Bank.
David's practice also involves deep engagement with the copyright system, and he has a specific expertise in the enforcement and registration of software, machine learning data sets and databases, and in negotiating industry standards-based licenses. David also represents the Los Angeles Philharmonic on a pro bono basis with respect to intellectual property matters.
Silver Sponsors
DATE AND TIME
Wednesday, June 28, 2023
Time: 12:00 noon to 1:30 pm
add to calendar
LOCATION
Arizona State University, Los Angeles Campus
Herald Examiner Building
1111 S Broadway
Los Angeles, CA 90015