The CAFC affirmed the Board's ruling in StonCor Group, Inc. v. Specialty Coatings, Inc. (Opposition No. 91187787), dismissing on opposition to registration of the mark ARMORSTONE for, inter alia, epoxy coating for use on concrete industrial floors. The Board found the applied-for mark not likely to cause confusion with the registered mark STONSHIELD [as well as the registered marks STONCLAD and STONHARD] for goods that include epoxy hardeners; and it also found the applied-for mark not merely descriptive of applicant's epoxy coatings. Would you have appealed? Stoncor Group, Inc. v. Specialty Coatings, Inc., Appeal No. 2013-1448 (Fed. Cir. July 16, 2014) [precedential].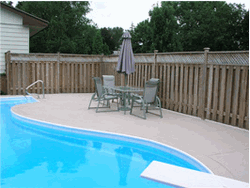 On appeal, StonCor raised only two issues: likelihood of confusion with its STONESHIELD mark, and mere descriptiveness.
As to the Section 2(d) issue, the Board found that the first du Pont factor, the similarity or dissimilarity of the marks, weighed against Stoncor. The CAFC ruled, however, that the Board erred in considering the pronunciation of the "STON-" prefix. The Board concluded that "STON-" would be pronounced by prospective consumers "according to the spelling" of 'STON,' with a short 'o' sound." According to the Board, StonCor had not provided any evidence to support the argument that "STON" would be pronounced with a long "o" sound – i.e., like "stone."
The CAFC ruled that the Board's pronunciation analysis was not supported by substantial evidence. The Board improperly failed to credit StonCor's evidence that consumers would pronounce "STON" as "stone."
There is no correct pronunciation of a trademark that is not a recognized word. See In re Belgrade Shoe Co., 411 F.2d 1352, 1353 (CCPA 1969). "STON" is not a word in English. Neither party argues that "STON" is a word in any other language. Where a trademark is not a recognized word and the weight of the evidence suggests that potential consumers would pronounce the mark in a particular way, it is error for the Board to ignore this evidence entirely and supply its own pronunciation.
The Board's error, however, was harmless, because its other findings under the first du Pont factor were each supported by substantial evidence and together provided substantial evidence in support for the Board's weighing of that factor in favor of applicant.
The CAFC gave short shrift to the mere descriptiveness issue. StoneCor submitted definitions of "armor" and "shield," but no evidence that the combination conveyed "an immediate idea of the ingredients, qualities or characteristics of" the products.
And so the CAFC affirmed the Board's decision.