Washington in the West 2017
---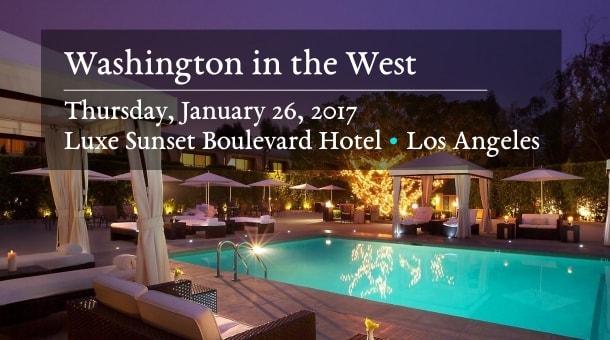 THE USPTO RETURNS TO THE LUXE SUNSET BOULEVARD HOTEL!
Date: Thursday, January 26, 2017
Time: 8:30 AM – 5:30 PM
Registration and Breakfast: 8:30 AM – 9:00 AM
Programming: 9:00 AM – 4:30 PM
Cocktail Reception: 4:30 PM – 5:30 PM
Location: Luxe Sunset Boulevard Hotel,11461 Sunset Boulevard, Los Angeles, CA 90049
LAIPLA brings the USPTO to you!  Now in our 21st year, Washington in the West is a full-day MCLE conference for all IP attorneys that brings together practitioners, in-house counsel, professors, and representatives from the United States Patent and Trademark Office.  This is a can't-miss conference that provides a truly unique forum for local practitioners to openly discuss issues directly with USPTO representatives.
Attire: Professional
Valet Parking: $10
Pricing
| | |
| --- | --- |
| LAIPLA Member | $289.00 |
| Non-Member + Discounted LAIPLA Membership 2015-2016 (new)      | $439.00 |
| Non-Member | $389.00 |
| In-House Counsel | $149.00 |
| Government | $149.00 |
| Student | $89.00 |
---
Topics at the 2017 Washington in the West Conference are expected to include the following:
Update from the USPTO
Minimizing the Risk of Subject Matter Eligibility Rejections
Patent and Trial Appeal Board Practice Update
Corporate Strategies on Managing and Utilizing Intellectual Property
Information Disclosure Statements and the Duty of Disclosure
Developing a Patent Licensing Strategy
Speakers at this event confirmed at this time will include:
John Cabeca, Director of the Silicon Valley Regional USPTO
Chief Judge David Ruschke, USPTO Patent & Trial Appeal Board
Allison Buchner, General Counsel, Dollar Shave Club
Oral Caglar, Associate General Counsel, Caltech
Lorenz Siddiqi, Senior Patent Attorney, Allergan
Josue Villalta, Knobbe, Martens, Olson & Bear, LLP
Richard Yoon, Director of Intellectual Property, MicroVention, Inc.
Los Angeles Intellectual Property Law Association (provider # 2083) certifies that this activity has been approved for MCLE credit by the State Bar of California in the amount of 6 hours of which 1 hour will apply to Legal Ethics.

Questions? Contact the LAIPLA office at office@laipla.net or call 323-285-1654
EVENT SPONSORS
Lunch Sponsor
Our intellectual property clients come in all sizes—from the largest global companies to individual entrepreneurs. What they have in common are big ideas. For the last 40 years, Morrison & Foerster has been synonymous with big ideas in intellectual property. Our intellectual property practice regularly ranks as one of the top IP practices in the U.S., and was named "IP Firm of the Year" byChambers USA and "IP Practice of the Year" by Law360 in 2013. Our clients benefit not only from the courtroom prowess of our litigators—and their abilities to resolve disputes short of trial—but also from our experienced patent prosecutors and technology transactions specialists who bring their sophisticated technical insights to bear in shaping and implementing our clients' IP strategies. With more than 250 IP practitioners, Morrison & Foerster has the size, talent, and global presence to handle any issue of IP law.
Diamond Sponsor
For over 20 years, ForensisGroup has provided the nation's top law firms with highly qualified expert witnesses and consultants. Experts referred by ForensisGroup have been thoroughly evaluated based on experience, education, track record, client feedback and much more. Over 8,000 clients have retained our experts in more than 10,000 cases nationwide. ForensisGroup takes a multi-disciplined approach, referring our clients to experts of various disciplines that may have an impact on the issues of the case. Clients benefit from free initial discussions with experts to gain better technical or scientific knowledge about their case. We offer free no-obligation recruiting.
Gold Sponsor
As the leading provider of software as a service solutions developed by lawyers for lawyers, DISCO is reinventing legal technology to automate and simplify complex and error-prone tasks that distract from practicing law. DISCO has been embraced by more than 400 law firms, including 50 of the AmLaw 200, as their first choice for innovative technologies that help great lawyers and their teams secure justice and win cases.
Hankin Patent Law, APC is an Intellectual Property boutique firm assisting businesses throughout California, the United States, and the World from our offices in Los Angeles, Orange County, and now San Francisco. We provide large firm expertise with small firm service, all with an eye to minimizing legal bills for our clients.  With a lower overhead, we provide unparalleled service at a fraction of large firm prices.  Our practice areas include:  patent preparation, prosecution, and licensing; trademark and copyright registration and licensing; and litigating patent, trademark, and copyright infringements; intellectual property counseling, protection, and portfolio management; IP-based due diligence; R&D advising, and building value in IP assets; domain name disputes and other unfair competition matters. Our clients span many industries:  Biotechnology, Software, Athletic Equipment, Printing Devices/Cartridges, Digital and Mobile Technology, Robotics, Visual Effects, Pet Supplies, Medical Devices, Footwear, Jewelry, Nutraceuticals, Food & Fitness Bars. Contact:  www.HankinPatentLaw.com or Marc@HankinPatentLaw.com.

Sheppard Mullin was founded in 1927 on the principle that the firm would succeed only if its attorneys delivered prompt, high quality and cost-effective legal services. Today, Sheppard Mullin continues to be guided by this philosophy and has grown to over 600 attorneys in 16 offices all around the world. We are well positioned to help companies both protect their intellectual property rights and exploit their commercial potential. We represent clients ranging from Fortune 500 corporations to deserving start-ups and individuals across a wide spectrum of industries. Our attorneys are consistently recognized as being leaders in the field and have the experience to handle any of our clients' intellectual property needs.
Silver Sponsor
Esquire is a national provider of deposition solutions, including court reporting and all the needs surrounding it. We handle scheduling, assignment of court reporters, room reservation, transcript management, video capture, video conferencing, electronic exhibits and more. Visit us at www.esquiresolutions.com for more information.
Fox Rothschild LLP is a national law firm known for client service and agility in problem solving. With 750 attorneys in 22 offices nationwide, we provide a full range of legal services to public and private companies — from startups and family-run businesses to multinational corporations — in the United States and more than 50 foreign countries.  Our Intellectual Property practice group, which has more than 100 attorneys, represents clients in patent prosecution and transactions, patent litigation, post-grant proceedings, trademarks, copyrights, International Trade Commission litigation, licensing, trade secrets and Hatch-Waxman litigation.
The Right Experts, Every Time

In its two-decade history of excellence, IMS ExpertServices has provided hundreds of experts in support of high-stakes intellectual property litigation. We believe that registries and databases fall short of capturing the nuance and intricacies required of experts engaged in IP disputes. We deliver the best experts in the world, not the best experts in a directory. 
Litigation is full of surprises.  The value of having IMS ExpertServices as a partner is that we are never surprised. A full research, recruiting, and project support team ensures that little issues don't become big issues and everyone involved is well-informed and positioned for the best outcome. In short, we deliver experts who position you for the win. Connect with us today.
Contact: ims-expertservices.com, 877-838-8464
Bronze Sponsor

Consistently ranked among the top intellectual property firms in the nation and worldwide, Knobbe, Martens, Olson & Bear, LLP has over 275 lawyers and scientists nationwide and dedicates its practice to all aspects of intellectual property law, including litigation. Knobbe Martens serves a diverse group of clients from multinational corporations to emerging businesses of all stages. The firm is headquartered in Orange County, California, with offices in San Diego, Silicon Valley, Los Angeles, Riverside, San Francisco, Seattle and Washington, D.C., and enjoys an international reputation for excellence. More information about the firm can be found at www.knobbe.com.
TPR supports high-achieving IP attorneys with trusted prior art research and analysis. TPR draws on 20 years of experience along with the success of thousands of cases, to uncover critical prior art through an extensive collection of databases as well as on-the-ground native language sources in over 40 different countries.
At TLS, we measure our success based on our ability to deliver results.  We've built the most capable, accessible, and intelligent e-discovery team in the industry, providing local service 24/7/365, on a global scale.  TLS simplifies translation as well as the national and global filing processes with our suite of comprehensive solutions for patent-related needs.  Utilize our dedicated account managers, expert patent attorneys, and highly qualified linguist pool to reduce translation costs, agency fees, administrative burdens, and turnaround times – without sacrificing quality or service.
Veritext is the global leader in court reporting and deposition services.  Our commitment to personal service and experience in managing even the most complex cases means you can feel confident the details are taken care of.  Veritext has the finest court reporters, extensive experience in every type of litigation, and operates using the highest levels of data security (PII and HIPAA-compliant).  With over 40 offices nationwide, you can rest assured that wherever you litigate, we can help.
Services Offered: Court Reporting, Realtime, Videography, Interpreter Services, Videoconferencing, Video Synchronization, Remote/Internet Depositions, MyVeritext online/mobile scheduling and secure and HIPAA compliant transcript and data repository, fully-appointed conference and deposition suites, mediation and arbitration support,  Native Evidence Capture (for compelling trial presentations) and LawStudio – a SaaS, secure cloud-based collaboration tool for legal professionals.
To learn more about Veritext please contact Sara McDonald at 213.254.3015.