LAIPLA Women in IP Spring Event
---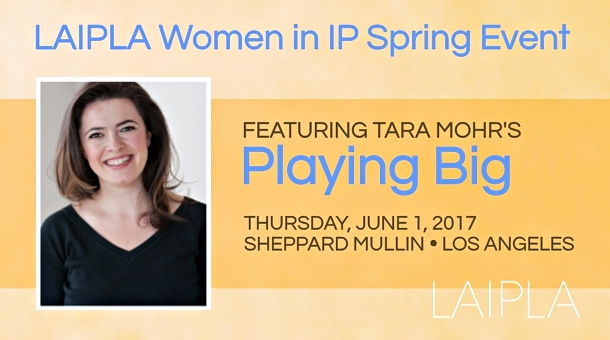 LAIPLA Women in IP Spring Event: "Playing Big"
DATE: Thursday, June 1, 2017
TIME: 12:00 – 2:00 PM
LOCATION: Sheppard, Mullin, Richter & Hampton, LLP
333 S Hope St. #48, Forty-Third Floor, Los Angeles, CA 90071
PARKING at 333 S. Hope Street: Included for registrants who indicate parking during registration
Please join us for a live teleconference presentation of Tara Mohr's Playing Big. Tara's work is known for its unique blend of intellectual rigor and intuitive wisdom. Tara is also the creator of the acclaimed Playing Big Leadership programs for women. Tara received her MBA from Stanford University and her undergraduate degree in English literature from Yale. More information about Tara can be found at www.taramohr.com.
Tara will be discussing the following topics from acclaimed leadership program:
Quieting Your Inner Critic – The voice of the inner critic is the number one thing that keeps women from playing bigger, but the solution is not having more confidence. Learn how to recognize your inner critic and practical tools you can use each day to quiet its voice.
Two Types of Fear That Arise When You're Playing Big – Distinguish between two types of fear and learn how to skillfully respond to each so you can manage the fear that comes up when you step out of your comfort zone.
PRICING
Judiciary: No Charge
In-House and Government Attorney: $40
Members: $65
Non-Members: $70
The event is not specific to intellectual property law and is open to attorneys in all practice groups. Lunch will be provided at the event, along with an opportunity to socialize and mingle with other female attorneys in the LA area.


---
Questions? Contact the LAIPLA office at office@laipla.net or call 323-285-1654
Sponsors
Silver Sponsor and Host
Sheppard Mullin was founded in 1927 on the principle that the firm would succeed only if its attorneys delivered prompt, high quality and cost-effective legal services. Today, Sheppard Mullin continues to be guided by this philosophy and has grown to over 600 attorneys in 16 offices all around the world. We are well positioned to help companies both protect their intellectual property rights and exploit their commercial potential. We represent clients ranging from Fortune 500 corporations to deserving start-ups and individuals across a wide spectrum of industries. Our attorneys are consistently recognized as being leaders in the field and have the experience to handle any of our clients' intellectual property needs.
Silver Sponsors
Our intellectual property clients come in all sizes—from the largest global companies to individual entrepreneurs. What they have in common are big ideas. For the last 40 years, Morrison & Foersterhas been synonymous with big ideas in intellectual property. Our intellectual property practice regularly ranks as one of the top IP practices in the U.S., and was named "IP Firm of the Year" byChambers USA and "IP Practice of the Year" by Law360 in 2013. Our clients benefit not only from the courtroom prowess of our litigators—and their abilities to resolve disputes short of trial—but also from our experienced patent prosecutors and technology transactions specialists who bring their sophisticated technical insights to bear in shaping and implementing our clients' IP strategies. With more than 250 IP practitioners, Morrison & Foerster has the size, talent, and global presence to handle any issue of IP law.
Wilson Sonsini Goodrich & Rosati provides value-added legal services to technology, life sciences, and growth business enterprises at all stages of development, from multibillion-dollar global enterprises to entrepreneurial start-ups. In addition, we represent the venture capital and private equity firms, investment banks, and other financial institutions that fund them.
Our attorneys represent and advise clients on a broad array of legal matters, including corporate law and governance, corporate finance, intellectual property, employment law, taxation, employee benefits, mergers and acquisitions, and litigation. Our experience counseling on a wide range of issues spanning a variety of industries has given us an exceptional understanding of our clients' business environments, uniquely positioning us to provide the most responsive, efficient, and effective legal solutions available.
Bronze Sponsor
SafeHouse Web is a professional website design and marketing company, established in 2007. Working alongside small and medium sized law firms, our core services include digital marketing strategy and execution, website & graphic design, social media management and search engine results. High performance search engine optimization drives growth for law firms; ranking well on Google and other search engines is important to the success of all our clients. Our search engine optimization services have durable, proven success. Our methods are based on tried-and-true process and best practices.