TechTainment 2.0: Technology + Entertainment
---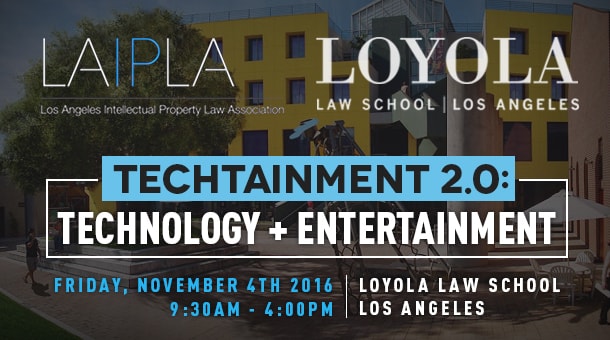 LAIPLA & Loyola Law School Present TechTainment 2.0: Technology + Entertainment
Date: Friday, November 4, 2016
Time: 9:30 AM – 4:00 PM
Registration: 9:30 AM – 10:00 AM
Programming + Lunch: 10:00 AM – 4:00 PM
Location: Loyola Law School, 919 Albany St, Los Angeles, CA 90015
Robinson Courtroom in the Girardi Advocacy Center (first floor)
LAIPLA, in conjunction with Loyola Law School, continues its groundbreaking program, 
TechTainment 2.0: Technology + Entertainment, highlighting how technology is transforming the entertainment field. With in-house attorneys, experts, industry insiders and professors, we will explore in-depth the current trends and issues related to recent trends in Artificial Intelligence, Video/Mobile Gaming, IP licensing and the Music industry. Our panelists will address the seismic shifts in the entertainment and technology industries. This is a must attend event for IP attorneys and the program will feature a keynote lunch program with renowned comic book and television writer, Ed Brubaker.
**Los Angeles Intellectual Property Law Association (provider # 2083) certifies that this activity has been approved for MCLE credit by the State Bar of California in the amount of 5.0 hours.
TechTainment 2.0 Speaker Materials
CO-SPONSORS
Beverly Hill Bar Association
LACBA ELIPS – Los Angeles County Bar Association Entertainment Law & Intellectual Property Section
PRICING
In-House: $75 ($100 after October 28)
LAIPLA Members/Loyola Alumni/LACBA ELIP Members/Beverly Hills Bar Association Members: 
$150 ($175 after October 28)
Non-Members: $250 ($275 after October 28)
Loyola Students: $25 (for first 20 registered students)
Students (Loyola Students and LAIPLA Member Students): $50 ($75 after October 28)
CANCELLATION POLICY
Pre-registration deadline is Friday, October 28. After Friday, October 28, the registration fee increases by $25. Cancellations must be received by the pre-registration deadline of Friday, October 28.
PARKING
Parking is not included in attendance, and is $9 for the Loyola parking lot.

---
SCHEDULE
10:00 AM – 11:00 AM Chasing Digital Pikachus and Beyond
11:15 AM – 12:15 PM Licensing of digital content and platform technology
12:25 – 1:30 PM Keynote Lunch with acclaimed comic book and television writer Ed Brubaker
1:30 PM – 2:30 PM Not So "Happy"?: 21st Century Music Rights in the Digital Environment
2:45 PM – 3:45 PM A.I.: Beyond the Final Frontier
Chasing Digital Pikachus and Beyond
Video games have hit the computer, phone, and living room to the point that tiny digital Pokémon characters are hiding out in the physical world. As video game technology has progressed, so too has the popularity and limits that are associated with games.  This panel of video game insiders will discuss the significant changes in technology and how the video game industry is harnessing and developing such changes, making us rethink how we interact with games and the digital, augmented, virtual, and real world.  Join NEXON's Managing VP for Western Business Development, Andrew Boortz, Scopley's counsel, Roy Rosenthal,  Video Game Bar Association's Patrick Sweeney moderated by Barnes & Thornburg's Roya Rahmanpour.
Licensing of digital content and platform technology
Join leaders from Los Angeles' media and technology sectors as they discuss new challenges in licensing for digital media. The panel will examine licensing of content for new platforms, as well as the spread of platform innovations through collaborations. Speakers will include Quinn Emanuel's Joseph Paunovich, Jake Simon, Director, Legal Counsel for Red Bull TV and Michael Arciero, Director of Technology from USC's Stevens Center for Innovation, which has developed among the most important new creative tools, including industry-leading virtual and augmented reality technologies. Moderated by Loyola Professor Jeffery Atik.
Keynote Lunch with Acclaimed Comic Book and Television Writer Ed Brubaker
Katz Golden Rosenman LLP's Caitlin DiMotta will moderate a very special Q&A with acclaimed comic book and television writer Ed Brubaker (Captain America, Daredevil, Criminal).  Brubaker, a Los Angeles native and winner of multiple industry awards for best writing, has not only seen his original ideas and characters developed into summer blockbusters, but as an independent creator, launched various acclaimed series that go beyond traditional super-heroes. Learn how original content is being developed into multiple entertainment platforms and how the creative process utilizes advances in technology.
Not So "Happy"?  21st Century Music Rights in the Digital Environment
The way we distribute and consume music is evolving at a rapid pace, as law and business plans also evolve to keep up.  This panel will discuss several important aspects of the use of music and recordings in the digital space.  First, we will cover the complex and evolving world of digital music licensing on both the publisher side and the recording side, digging down to the specific licensing schemes and recent, emerging and future changes in the way music is licensed.  Second, we will discuss some of the many recent ongoing legal disputes over the status and scope of rights in pre-1972 U.S. sound recordings, including the applicability of the DMCA internet service provided "safe harbors" to those classic recordings.  The decisions are in conflict and undergoing various appeals,  and this program will get audience members up to speed on the latest developments.  Join Music Reports, Inc.'s Counsel, Bill Colitre, Carlton Fields' Harvey Geller, Concord Bicycle Music's Chief Legal & Business Affairs, Larry Blake and moderated by Loyola Professor Jay Dougherty.
A.I.: Beyond the Final Frontier
Artificial Intelligence has had a starring role in many of the films we have enjoyed; from Minority Report's epic gestural interface, to the neural-net based villain "Skynet" in the Terminator franchise, to the mobile OS "Samantha" we fall in love with in Her.  AI has arrived, whether you are championing such arrival or fearful of its ominous presence, and is playing a major role in the future of the entertainment industry.  This panel of super brains will provide a fascinating primer on developing AI uses in entertainment, and the business, ethical and legal implications of such advancements.  Join USC Institute for Creative Technologies' Todd Richmond, Director of Advanced Prototype Development, and imperson's Seth Greenfield, moderated by Loyola Adjunct Professor and Freed Law's, Tracey Freed.
---
CONFIRMED SPEAKERS
Michael Arciero, Director of Technology Licensing and New Ventures USC Stevens Center for Innovation
Michael Arciero, J.D. is the Director of Technology Licensing and New Ventures at the USC Stevens Center for Innovation with over 15 years of experience in academic, foundation, and industry technology transfer. Most recently, Arciero was Interim Director of the University of California, Riverside (UCR) Office of Technology Commercialization where he worked closely with faculty, staff, and students to help identify and commercialize their research. Arciero led the UCR negotiation efforts with a large company which resulted in a significant increase in research funding and the closing of a new license agreement for the commercialization of key technology in the University's intellectual property portfolio. Prior to UCR, Arciero was counsel for the E.O. Wilson Biodiversity Foundation, and served as a licensing attorney at Diversa Corporation (now BASF), where he focused on licensing the company's industrial enzymes portfolio and supported the business development groups in monetizing access to their proprietary environmental sequence libraries.
Arciero started his career in biotechnology as a researcher at LXN Corporation (now Johnson & Johnson) where he worked on the development of the first portable diagnostic device for diabetes management that allowed patients to measure both blood glucose and glycated protein (fructosamine).
Arciero earned a Bachelor of Science in Biology from the University of California, San Diego and a J.D. from the University of San Diego School of Law. He is an active member of the Association of University Technology Managers, Licensing Executives Society, Biotechnology Industry Organization and Association of Strategic Alliance Professionals.

---
Jeffery Atik, Professor of Law, Loyola Law School
Jeffery Atik writes on international finance and on international trade, intellectual property and competition law issues with a focus on technology transfer.  Atik has also taught at Berkeley (Boalt Hall), Boston College, Indiana-Bloomington, Lund (Sweden), Suffolk, and UCLA law schools, and at Washington-St. Louis and The Fletcher School of Law and Diplomacy.  Atik is a member of the United States' NAFTA Chapter 19 roster and has served on three NAFTA binational panels, including the review in Softwood Lumber from Canada.  He first practiced in Shearman & Sterling New York City and later with law firms in Boston, Milan and St. Louis.  He is a member of the New York, Connecticut, Massachusetts and Missouri bars.
---
Larry Blake, Chief Legal & Business Affairs Officer, Concord Bicycle Music
Larry heads up Concord's legal and business affairs department, oversees its royalties department and serves as one of its core group of executives. Larry joined Concord in October, 2005 after nearly 30 years as a lawyer specializing in matters pertaining to the music and related industries and after 10 years of representing Concord as its outside counsel. Larry's work for Concord has included handling its 2004 acquisition of Fantasy, Inc., which instantly transformed Concord from a small West Coast jazz label into one of the largest independent record label groups in the world, as well as its subsequent acquisitions of the Telarc, Rounder, Vee Jay, Vanguard, Sugar Hill, Wind Up and Fearless record labels and its joint ventures with Loma Vista Recordings and Razor &Tie. He's been responsible for negotiating Concord's worldwide distribution and licensing arrangements with Universal Music Group and for overseeing Concord's artist contracts, royalty audits and litigation matters.
Prior to joining Concord, Larry had been a long-time partner at the nationally recognized law firm, Manatt, Phelps & Phillips, LLP, where his artist clients included the Eagles, Cher, Barbra Streisand, the Rolling Stones and the Pixies, his record company clients included Sub Pop Records, Elektra Records and RSO Records, and he also represented one of the world's leading companies in the areas of live entertainment and sports, Anschutz Entertainment Group (AEG).
---
Andrew Boortz, Managing VP for Western Business Development, NEXON
Drew is the General Counsel for Nexon America, Inc. and Nexon M, Inc., subsidiaries of Nexon Co. Ltd.  Nexon is a publicly traded multinational video game company specializing in free to play PC, mobile and social games.  As General Counsel for Nexon America and Nexon M, Drew oversees all legal, regulatory, litigation and public policy activities of the Nexon group in North America, South America and Oceana.
---
Ed Brubaker, Eisner Award Winner Comic Book Writer
Ed Brubaker has won the Best Writer Award in the Harveys and the Eisners five times since 2006. His work on Captain America set the stage for Marvel's blockbuster "Civil War." His work with Sean Phillips on Criminal, Incognito, Fatale, and The Fade Out has been translated around the world to great acclaim. He was raised partly on Navy bases, and credits being forced to go to his mother's AA meetings throughout much of his childhood with planting the seed of writing in his brain, and his father's love of comics and movies for nurturing it. He currently lives in Los Angeles with his wife Melanie and their dog Roscoe, where he works in comics, film, and television.
---
William B. Colitre, Vice President & General Counsel, Music Reports, Inc.
Bill Colitre serves as General Counsel and head of both Business Development and Royalty Services for Music Reports. He began his legal career in the Entertainment Department of Loeb & Loeb LLP where he was a founding member of the iLaw Group and later served as counsel to the firm of Altschul & Olin, LLP, the Roll International Corporation (parent company of Teleflora LLC, Fiji Water LLC, and other enterprises) and CBS Paramount Network Television Home Entertainment.  Over the years, he has served leading artists (Diana Ross, Rob Thomas, Tenacious D), publishers (Warner/Chappell, Leiber & Stoller), labels (Universal Music Group, Ruthless Records), digital aggregators (CD Baby, INgrooves), music services (Sirius XM, SoundCloud, Pandora), producers (CBS Paramount, Netflix), and consumer products companies (American Greetings, QVC), among many others. Mr. Colitre holds a BA in Communication from UC, San Diego and a JD from Loyola Law School, where he obtained First Honors awards in Computer Law and Internet Law, as well as the American Jurisprudence Award in Copyright. Bill is an Loyola alumni.
---
Caitlin DiMotta, Katz Golden Rosenman LLP
Caitlin began her career as an entertainment and business lawyer over ten years ago. She represents the interests of artists, writers, personalities and creators in deals of all kinds. She has worked with clients on matters including the acquisition and licensing of media properties; option, development and publishing agreements in the television, literary, comic book/graphic novel and motion picture industries. Her breadth of experience in a variety of entertainment areas enables Caitlin to spot potential issues before they become problems, allowing her to take a preventive and proactive approach to legal representation.
Caitlin's interest in the world of arts and entertainment is grounded in her personal experience. Her husband, Duffy Boudreau, is a published comic book writer, television and screenwriter, giving her a uniquely personal perspective on the industry. Caitlin also enjoyed a decade-long career as a professional dancer, dancing with national and international dance companies and freelancing for nationally renowned choreographers. She was a recipient of the Wall Street Journal Award for Excellence in Business and Corporate Law and was named a Rising Star by SuperLawyers in 2013, 2014, and 2015. Caitlin is a member of the bar in California, Washington, and New Mexico.
---
Jay Dougherty, Professor of Law, Loyola Law School
During law school Jay Dougherty was a Harlan Fiske Stone scholar, a staff member of the Columbia Law Review and editor of the Columbia Journal of Arts & the Law. His legal career began in the Entertainment Department of Paul, Weiss, Rifkind, Wharton & Garrison in New York, where his work included representation of Broadway composers and authors.
His interest in the motion picture area led to positions at the Motion Picture/Television/Music Departments of Mitchell, Silberberg & Knupp, the legal departments at United Artists Pictures and Metro-Goldwyn-Mayer Pictures and the Business Affairs Department of Morgan Creek Productions. After a corporate takeover of MGM, Dougherty moved to the Legal Department of Twentieth Century Fox, where he became senior vice president of production and worldwide acquisition legal affairs. Before joining the Loyola faculty, Dougherty served as assistant general counsel for Turner Broadcasting System, responsible for Turner Pictures.
He also taught as an adjunct professor at the University of Southern California Law Center for 10 years, and is an Adjunct Professor teaching International Entertainment Law for the Munich Intellectual Property Law Center in Munich. He is also a professional guitarist.
---
Tracey L. Freed, Founder, Freed Law P.C.  & Adjunct Professor, Loyola Law School
Tracey Freed is Founder of Freed Law, P.C., specializing in digital media, entertainment and technology transactions.  Ms. Freed advises start-ups, digital creators and fortune 100 companies at the intersection of content and technology, including structuring and negotiating commercial transactions focused on content distribution and monetization, technology commercialization, gaming, social media marketing, big data and ad tech.  She often acts as outside General Counsel to her clients, including providing advice on digital strategy, business affairs, regulatory compliance, IP portfolio management, and data privacy. Ms. Freed is also currently an Adjunct Professor at Loyola Law School where she teaches "Digital Media and the Law," a class she designed and originated. Prior to founding Freed Law, Ms. Freed was Assistant General Counsel, Digital Networks at Sony Pictures Entertainment Inc. This is Tracey's second Techtainment conference. Tracey is an Loyola alumni.
---
Harvey W. Geller, Of Counsel, Carlton Fields
Harvey Geller has over three decades of experience handling complex business litigation matters. He has extensive experience in intellectual property, technology, internet, digital media, and entertainment matters, and has been at the forefront in developing and shaping new media and Internet law in the United States. He litigated the landmark cases against MP3.com, Napster, Aimster, Grokster, LimeWire, and Grooveshark, in addition to the industry leading cases involving the Digital Millennium Copyright Act. Mr. Geller also litigated the groundbreaking case against Napster's investors, the seminal trademark and First Amendment case concerning the tradename "Barbie," and led the multi-jurisdiction common law copyright class actions brought by Flo & Eddie (The Turtles) against Sirius XM Radio, Inc. and Pandora Media, Inc.
Mr. Geller's experience extends well beyond entertainment, new media, and intellectual property matters and includes antitrust, business torts, insurance, contract disputes, accounting and royalty disputes, employment, products liability, and personal injury. He has litigated on behalf of plaintiffs and defendants in state and federal courts around the country and is experienced in all aspects of litigation, including trials and appeals, and class actions.
---
Seth Greenfield
Seth Greenfield is the Chief Content Officer and co-founder of imperson, a Disney Accelerator alum and developers of conversational AI technology that power imperson's premium conversational bots via text, voice and video.
At imperson, Seth has built the creative strategy and team that has set the standard for conversational bots.  Working with leading brands such as Microsoft, Disney and Universal, Seth has led production of the most successful chatbot personalities in the market, bringing iconic characters like Miss Piggy, Doc Brown and Officer Judy Hopps (Zootopia) to life on Facebook Messenger.
Prior to imperson, Seth was a successful entrepreneur at his own Wall Street NASD firm.
---
Joseph Paunovich, Partner, Quinn Emanuel Urquhart & Sullivan
Joseph Paunovich is a partner in the Los Angeles office of Quinn Emanuel.  His practice focuses on intellectual property litigation and trials, including patent, trademark, trade secret, and copyright matters.  He has extensive experience working with Fortune and early stage technology companies as well as individual owners of intellectual property.  Mr. Paunovich works tirelessly with clients to license their innovations, enforce intellectual property rights and defend against allegations of infringement.  He is also a registered patent attorney and provides client counseling on strategic prosecution, reexamination proceedings and product design in connection with litigation matters.
Mr. Paunovich was a member of the University of Michigan Inteflex Program (a combined B.S./M.D. program) where he received a Bachelor of Science degree in Microbiology and graduated from the University of Michigan Law School.
---
Roya Rahmanpour, Barnes & Thornburg LLP
Roya Rahmanpour is an associate in the Los Angeles office of Barnes & Thornburg LLP, where she is a member of the Litigation Department.
Ms. Rahmanpour's interests and experience focus on complex business litigation, intellectual property, antitrust and appellate work. She also has experience in commercial litigation involving business torts, unfair competition and contractual disputes. She has represented companies and individuals in the entertainment, telecommunication, technology, medical device and pharmaceutical industries, among others.
Ms. Rahmanpour earned her J.D. from Loyola Law School, Los Angeles, where she was the recipient of a merit-based scholarship and graduated near the top of her class. While in law school, Ms. Rahmanpour externed for the Honorable Valerie Baker Fairbank in the Central District of California, served as an editor of the Loyola of Los Angeles Law Review, and participated in the Giles Sutherland Rich Moot Court Competition, in which she was awarded Best Appellant Brief. Prior to obtaining her J.D., Ms. Rahmanpour earned her B.S., cum laude and Phi Beta Kappa, from UCLA. She majored in biology and, upon graduation, received UCLA Biology Departmental Honors. Roya is an Loyola alumni.
---
Todd Richmond, Director of Advanced Prototype Development, USC Institute for Creative Technologies
By day, Todd Richmond is the director of advanced prototypes at the University of Southern California Institute for Creative Technologies (ICT). By night he is a musician, visual artist, and conceptual troublemaker. In a previous life Richmond was a chemistry professor at The Claremont Colleges where early in his faculty career he incorporated multimedia and web technologies into his teaching and research. That work led him to evolve from his specific focus on chemistry to instead pursue a broader understanding of technology and content as managing director of the USC Annenberg Center for Communication (a new media research center). In 2006 Richmond moved to ICT and currently leads the advanced prototype group.
He works in a variety of areas: emerging disruptive technologies and their implications/applications for training, learning, and operations; future environments for communication and collaboration; immersive technologies; interactive education; visualization and analytics. He works closely with the USC School of Cinematic Arts, has studied with Grammy- winning bassist Victor Wooten, and performs regularly with a number of different ensembles. Richmond earned a B.A. in chemistry from the University of San Diego and a Ph.D. in chemistry from Caltech, followed by a postdoctoral fellowship in protein engineering at U.C. San Francisco.
---
Roy Rosenthal, General Counsel,  Head of Business Affairs, Scopley
Prior to Scopely, Rosenthal was Senior Counsel & Senior Director of Business Affairs at Zynga, where he performed a dual legal and business development role running the commercial legal team and heading our business affairs efforts. Before that, he ran Business Affairs at Shazam in London and then in Palo Alto.
---
Jake Simon, Director, Legal Counsel for Red Bull TV
Jake Simon is an attorney and strategist with over 17 years' experience structuring, drafting and negotiating deals. He has practical expertise providing innovative solutions with respect to intellectual property, privacy and consumer protection issues, and working knowledge of a variety of new media business models including e-commerce, VOD/EST, and subscription and ad supported media. He is currently Director, Legal Counsel for Red Bull TV, and previously was counsel for a variety of online properties during stints with Warner Bros. Digital and Disney Interactive. He also provides legal education to entrepreneurs through Pacific Coast Regional SBDC. In his spare time he surfs, does yoga, and hangs with his wife and chocolate lab.
---
Patrick Sweeney, Principal, Interactive Entertainment Law Group
In his 15+ years in the games industry, Patrick has negotiated an array of game development agreement, resulting in the commercial release of more than 250 games across all distribution platforms and territories.  In addition, he has represented clients with respect to the game rights for more than 50 major motion pictures and television properties, as well as negotiated numerous technology licenses and other agreements inherent to the games industry.
Prior to establishing the Interactive Entertainment Law Group in late 2013, Patrick head the Video Game practice for Reed Smith LLP and helped to grow the practice into the largest game-specific legal team in North America.
Patrick has written or been featured in various articles for such publications as The Daily Journal, Game Developer Magazine, [a]List Daily and others.  Additionally, Patrick is a frequent speaker on legal issues pertaining to the games industry on behalf of organizations such as Law Seminars International, International Game Developers Association, American Bar Association and the Beverly Hills Bar.
Patrick is also a founding member and co-President of the Video Game Bar Association, an invitation-only organization made up of the top legal practitioners in the games industry.
He is also an Adjunct Professor at Southwestern Law School in Los Angeles, where he teaches a course entitled Video Game Agreements.  Patrick has also lectured law students at University of Southern California, UCLA, Loyola and Washington University.
---

Questions? Contact the LAIPLA office at office@laipla.net or call 323-285-1654
CO-SPONSORS
Beverly Hill Bar Association
LACBA ELIPS Entertainment Law & Intellectual Property Section