LAIPLA Judges' Night Gala 2017
---
Judges' Night Gala with the Honorable Alex Kozinski, Judge of The United States Court of Appeals for the Ninth Circuit
Location: Millennium Biltmore Hotel in Downtown Los Angeles
Date: Wednesday, March 1, 2017
Time: 5:30 p.m. – 9:15 p.m.
Cocktail Reception: 5:30 p.m. – 6:30 p.m.
Dinner Begins: 6:30 p.m.
Panel Discussion: 7:15 p.m. – 8:45 p.m.
Address: 506 S. Grand Ave., Los Angeles, CA 90071
The Los Angeles Intellectual Property Law Association, the Orange County Intellectual Property Law Association and the Judge Paul R. Michel Intellectual Property American Inn of Court invite you to our annual Judges' Night Dinner.  Judges' Night honors those members of the judiciary who handle intellectual property matters and features an interactive discussion of current topics with a panel of prominent judges. We are extremely pleased to announce that this year's guest of honor will be The Honorable Alex Kozinski, Judge of the United States Court of Appeals for the Ninth Circuit.
Judge Kozinski will join in a panel discussion with Judge Andrew J. Guilford and Magistrate Judge Gail J. Standish of the U.S. District Court for the Central District of California, and Professor Douglas Lichtman of the UCLA School of Law. The panel discussion will be moderated by Scott Miller of Sheppard, Mullin, Richter & Hampton LLP.
The LAIPLA will present its 2017 Distinguished Public Service Award to Judge S. James Otero of the U.S. District Court for the Central District of California at the Judges' Night Gala.
PRICING:
Tables:
Tables seat 10 total – 8 table guests with an additional 2 seats reserved for a judge and guest or for in-house counsel (if available)
Member* Table: $1650 ($2150 after 2/16/17)
Non-Member Table: $2,300 ($2,800 after 2/16/17)
Individual Pricing:
Judicial Officer: FREE
In-House Counsel: FREE ($140 AFTER 2/16/17)
Member*: $165 ($215 after 2/16/17)
Non-Member: $230 ($280 after 2/16/17)
Non-Member + Discounted LAIPLA Membership: $315 ($365 after 2/16/17)
Government: $100 ($150 after 2/16/17)
Student: $90 ($140 after 2/16/17)
*Members of LAIPLA, OCIPLA, or the Inn of Court are eligible for the discounted Member rate
** This activity will be approved for 1.0 hour of MCLE credit by the State Bar of California
*** Limited tickets available. This event has sold out in previous years.
Menu: Chicken or Vegetarian
Attire: Business Attire
Parking: Valet parking at the hotel is available for $22. Alternatively, you may park across the street in Pershing Square for $16 before 5:00 p.m., and $7 after 5:00 p.m.

---
GUEST OF HONOR
JUDGE ALEX KOZINSKI was appointed to the United States Court of Appeals for the Ninth Circuit by President Ronald Reagan in 1985 and was confirmed by the Senate on November 7, 1985.
Judge Kozinski graduated from the University of California, Los Angeles in 1972, and graduated from the University of California, Los Angeles School of Law in 1975. Out of law school, Judge Kozinski clerked for future Supreme Court Justice Anthony Kennedy on the Ninth Circuit from 1975 to 1976, and then for Chief Justice Warren Burger from 1976 to 1977.
Judge Kozinski was the Deputy Legal Counsel for the Office of the President Elect from 1980-1981, the Assistant Counsel for the Office of Counsel to the President in 1981, and Special Counsel of the Merit Systems Protection Board from 1981-1982.
Judge Kozinski's judicial career began in 1982, when he was appointed to the newly formed United States Court of Federal Claims in Washington D.C. Judge Kozinski served as Chief Judge of that Court from 1982-1985, when he was appointed to the United States Court of Appeals for the Ninth Circuit. Judge Kozinski served as chief judge of the Ninth Circuit from 2007 to 2014.
---
LAIPLA To Present Judge S. James Otero with Public Service Award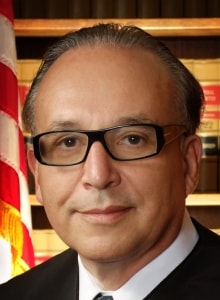 The LAIPLA will present its Distinguished Public Service Award for 2017 to Judge S. James Otero of the United States District Court for the Central District of California at the Judges' Night dinner. The award is presented each year to an LAIPLA member who has made a significant contribution to the public good. California Federal and State judges, and judges on the Ninth and Federal Circuit Courts of Appeal, are ex-officio members of the LAIPLA.
This year, LAIPLA would like to recognize Judge Otero for his service to the local IP community as a participant in the Central District's Patent Pilot Program as well as in numerous events sponsored by the LAIPLA. As a member of the Central District's "Patent Panel," Judge Otero has a significant impact on the evolution of patent law in the Central District, a venue with one of the busiest patent dockets in the country. Judge Otero's service to the community as a member of the Patent Panel, and his willingness to share his perspectives on issues of interest to the IP community, reflect the finest traditions of the judiciary.
Judge S. James Otero became a United States District Judge for the Central District of California, Southern Division, on February 12, 2003. He has sat by designation with the Federal and Ninth Circuit Courts of Appeal. He is one of the original six Patent Pilot Program Judges in the Central District of California.
For the vast majority of his career, Judge Otero has dedicated himself to public service. Upon graduating from law school, Judge Otero began working for the Los Angeles City Attorney's Office, where he remained for the next ten years. Following his service in the Los Angeles City Attorney's Office, Judge Otero began a one-year stint as Regional Counsel for Southern Pacific Transportation Company, after which, he took the bench as a Los Angeles Municipal Court judge, from 1988 to 1990, and then a Los Angeles Superior Court judge, from 1990 to 2003. On January 7, 2003, Judge Otero was nominated to a seat on the Central District of California. He was confirmed by the Senate on February 10, 2013, and received his commission two days later.
From a young age, Judge Otero knew he wanted to dedicate his life to public service. His career reflects his dedication and embodies the qualities LAIPLA seeks to recognize through its Distinguished Public Service Award. We are honored this year to extend the award to Judge S. James Otero.
---
THANK YOU TO OUR SPONSORS
Cocktail Reception Sponsor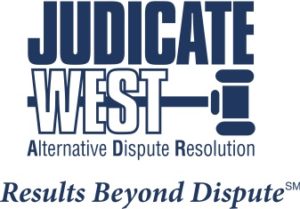 Judicate West maintains the highest standard of service anywhere in the ADR industry. Our core services of Mediation, Arbitration, and Private Judging, plus our special programs including Jury Mediation are available across all commercial and non-commercial areas of the law. Judicate West's combination of highly competent service oriented staff, well-appointed facilities, and best in class neutrals is unmatched.
Diamond Sponsor
For over 20 years, ForensisGroup has provided the nation's top law firms with highly qualified expert witnesses and consultants. Experts referred by ForensisGroup have been thoroughly evaluated based on experience, education, track record, client feedback and much more. Over 8,000 clients have retained our experts in more than 10,000 cases nationwide. ForensisGroup takes a multi-disciplined approach, referring our clients to experts of various disciplines that may have an impact on the issues of the case. Clients benefit from free initial discussions with experts to gain better technical or scientific knowledge about their case. We offer free no-obligation recruiting.
Gold Sponsor

Our intellectual property clients come in all sizes—from the largest global companies to individual entrepreneurs. What they have in common are big ideas. For the last 40 years, Morrison & Foerster has been synonymous with big ideas in intellectual property. Our intellectual property practice regularly ranks as one of the top IP practices in the U.S., and was named "IP Firm of the Year" byChambers USA and "IP Practice of the Year" by Law360 in 2013. Our clients benefit not only from the courtroom prowess of our litigators—and their abilities to resolve disputes short of trial—but also from our experienced patent prosecutors and technology transactions specialists who bring their sophisticated technical insights to bear in shaping and implementing our clients' IP strategies. With more than 250 IP practitioners, Morrison & Foerster has the size, talent, and global presence to handle any issue of IP law.

Sheppard Mullin was founded in 1927 on the principle that the firm would succeed only if its attorneys delivered prompt, high quality and cost-effective legal services. Today, Sheppard Mullin continues to be guided by this philosophy and has grown to over 600 attorneys in 16 offices all around the world. We are well positioned to help companies both protect their intellectual property rights and exploit their commercial potential. We represent clients ranging from Fortune 500 corporations to deserving start-ups and individuals across a wide spectrum of industries. Our attorneys are consistently recognized as being leaders in the field and have the experience to handle any of our clients' intellectual property needs.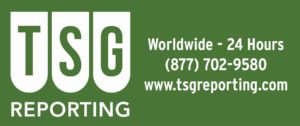 TSG provides the highest quality court reporting services for depositions, arbitrations and hearings nationwide and worldwide. Unlike any other agency, we provide live client service 24 hours a day, seven days a week, and only work with the best reporters in the business, each with a minimum of ten years' experience. We utilize cutting edge technology that reaches well beyond the deposition room. This includes portable remote deposition solutions and video-editing tools that permit you to create your own designation video clips in a fraction of the time that outside vendors require at no additional cost. Our centralized Calendar and Production departments ensure that every deposition and all materials always receive the same high level of service and quality control so that your work will be handled seamlessly regardless of which city, state or country it takes place in. We also provide the highest quality audio transcriptions, foreign language transcriptions, and document translations.
Silver Sponsor

Edwards Lifesciences is the global leader in patient-focused medical innovations for structural heart disease, as well as critical care and surgical monitoring. Driven by a passion to help patients, the company collaborates with the world's leading clinicians and researchers to address unmet healthcare needs, working to improve patient outcomes and enhance lives.
At Edwards Lifesciences, we are dedicated to providing innovative solutions for people fighting cardiovascular disease. Helping patients is our life's work, Life is Now.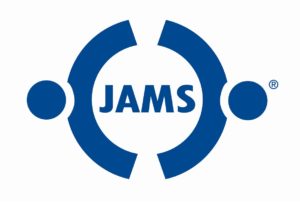 JAMS Intellectual Property Practice Group
The depth of intellectual property (IP) dispute resolution experience at JAMS is unmatched by any other ADR provider. The JAMS Intellectual Property Practice Group includes retired federal judges from notable IP venues as well as retired state and appellate court judges and attorney-neutrals who specialize in high-stakes intellectual property litigation. Our panel handles all types of IP and technology disputes including patent, copyright, trademark, false advertising, licensing, ITC Section 337, data security and privacy and trade secret matters.
For more information, visit https://www.jamsadr.com/intellectual-property