LAIPLA Holiday Experience 2016
---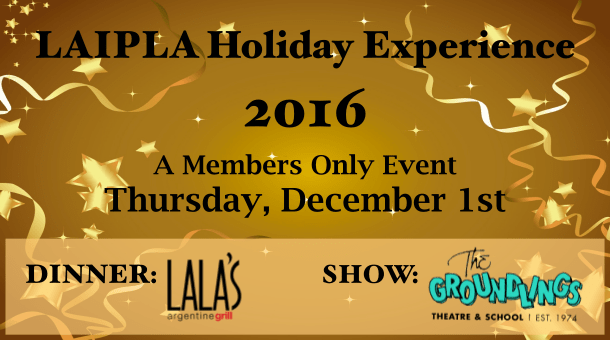 LAIPLA is proud to present its 2016 Members Only Annual Holiday Experience
Exclusive Show at World Famous Groundlings + Dinner & Drinks @ LALA's Argentine Grill
For the past two years we've taken our Members to magical venues, this year we're stepping our holiday party up with an exclusive show at The Groundlings.
The Groundlings is an improvisation and sketch comedy theatre that has been entertaining LA audiences for over 40 years. Alumni include: Will Ferrell, Kristen Wiig, Phil Hartman, Lisa Kudrow, Paul Reubens, Cheryl Hines, Jon Lovitz, Laraine Newman, Will Forte, Maya Rudolph, Michael McDonald, Kathy Griffin, Phil LaMarr, Cheri Oteri, Chris Kattan, Julia Sweeney, Chris Parnell, Ana Gasteyer and Rachael Harris… just to name nineteen.
LALA's Argentine Grill most distinctive offering, of course, is its food. The menu is imaginatively balanced with traditional Argentinian favorites and a nod to the best of California cuisine.
Date: Thursday, December 1, 2016
Time: 8:00 PM – 11:30 PM
8:00 PM – 9:00 PM: Cocktail + Appetizers Hour @ LALA's Argentine Grill
9:00 PM – 10:00 PM: Dinner @ LALA's Argentine Grill
10:30 PM – 11:30 PM: Exclusive LAIPLA Show @ Groundlings
Location: LALA's, 7229 Melrose Ave., Los Angeles, CA 90046
The Groundlings, 7307 Melrose Ave., Los Angeles, CA 90046
Parking: Will not be included. Valet will be available at LALA's for $8 (pick up car by midnight).
PRICING
The Holiday Experience is exclusively for LAIPLA members and member firms, and is one of the privileges of LAIPLA membership. Any LAIPLA Member can purchase one ticket for themselves and their spouse/or significant other.
LAIPLA Members: $125 (After November 28, $175)
CANCELLATION POLICY
Pre-registration deadline is Monday, November 21. We don't expect any tickets to still be available, but after Monday, November 21, the registration fee increases by $50 to $175. Cancellations must be received by the pre-registration deadline of Monday, November 21. Any cancellations received after that date will be refunded $50, incurring a non-refundable charge of $75.
Questions? Contact the LAIPLA office at office@laipla.net or call 323-285-1654
This event is limited to LAIPLA Members.

Not an LAIPLA Member?

---
Sponsors
Diamond Sponsor

For over 20 years, ForensisGroup has provided the nation's top law firms with highly qualified expert witnesses and consultants. Experts referred by ForensisGroup have been thoroughly evaluated based on experience, education, track record, client feedback and much more. Over 8,000 clients have retained our experts in more than 10,000 cases nationwide. ForensisGroup takes a multi-disciplined approach, referring our clients to experts of various disciplines that may have an impact on the issues of the case. Clients benefit from free initial discussions with experts to gain better technical or scientific knowledge about their case. We offer free no-obligation recruiting.
Gold Sponsor
As the leading provider of software as a service solutions developed by lawyers for lawyers, DISCO is reinventing legal technology to automate and simplify complex and error-prone tasks that distract from practicing law. DISCO has been embraced by more than 400 law firms, including 50 of the AmLaw 200, as their first choice for innovative technologies that help great lawyers and their teams secure justice and win cases.
Bronze Sponsor
SafeHouse Web is a professional website design and marketing company, established in 2007. Working alongside small and medium sized law firms, our core services include website & graphic design, social media management and search engine results. High performance search engine optimization drives growth for law firms; ranking well on Google and other search engines is important to the success of all our clients.
Our search engine optimization services have durable, proven success. Our methods are based on tried-and-true process and best practices.
---
Interested in Sponsoring this event?
Please contact Marjorie Norman at mwnorman@venable.com.
---