LAIPLA Fall Patent Dinner 2017
---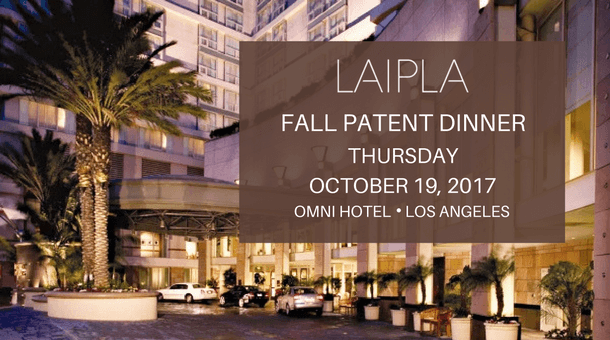 LAIPLA invites you experience our Fall Programming Night
Including: "Patent Venue Issues, Litigation Strategies and Unanswered Questions In The Wake of TC Heartland"
DATE: Thursday, October 19, 2017
LAIPLA Fall Patent Dinner 6:00 – 8:00 PM
LAIPLA Small Firm/Solo Practitioners Fall Program with Ethics MCLE 6:30 – 8:00 PM
LAIPLA Young Lawyers Fall Program 5:15 – 6:00 PM
LOCATION: Omni Hotel, 251 S. Olive Street, Los Angeles, CA 90012
Attire: Business
Hotel Valet Parking: $15
Fall Patent Dinner 6:00- 8:00 PM
LAIPLA is proud to present "Patent Venue Issues, Litigation Strategies and Unanswered Questions In The Wake of TC Heartland" featuring a panel discussion with Robert Taylor, Senior Corporate Counsel at j2 Global, Inc., Theodore Stevenson, a principal at McKool Smith in Dallas, Texas, and Dominick Gattuso, a partner at Heyman Enerio Gattuso & Hirzel LLP in Wilmington, Delaware. The Panel will be moderated by Steve Hanle, chair of Stradling Yocca Carlson & Rauth's IP department. The event will feature a discussion of patent venue issues facing litigators, litigation strategies in the wake of TC Heartland, subsequent District Court decisions interpreting that decision and a discussion of some unanswered questions in the wake of TC Heartland.
Reception (Cash Bar) 6:00 – 7:00 PM
MCLE Presentation/Buffet Dinner 7:00 – 8:00 PM
Small Firm/Solo Practitioners Fall Program 6:30 – 8:00 PM
As cyberthreats and cybersecurity issues are leading the news, and bar associations across the nation opine on the duties of attorneys to avoid such threats, the LAIPLA, will be giving a presentation on the business and ethical issues presented by the cybersecurity threat to the small firm or solo practitioner, with an emphasis on the practical impacts and requirements on the solo practitioner or small firm. Attendees will receive 1 hour MCLE credits for Ethics.
Neil Pedersen, who heads his own small firm, teaches a law school course in Law Practice Management, and has widely spoken on this issue and the development of the 21st century law office will present.
Young Lawyers Fall Program 5:15 – 6:00 PM
Are you a young lawyer practicing intellectual property law and wondering how to advance and succeed in your career? You should join the Young Lawyers for their first program of the year, "Tips for Making Yourself an Indispensable Member of a Litigation Team."
Note: Admission to the Young Lawyers Event is free but registration is required. If you are interested in attending one of the evening programs afterwards (either the Fall Patent Dinner or Small Firm/Solo Practitioners Fall Program), you must purchase a ticket to attend those programs.
PRICING
Fall Patent Dinner (includes dinner and reception)
LAIPLA Member / Inn of Court (Early Bird) – $90
LAIPLA Member / Inn of Court – After Friday, October 13 – $110
LAIPLA Student Members (Early Bird)– $50
LAIPLA Member – After Friday, October 13 – $70
LAIPLA In-House (Early Bird)– $50
LAIPLA In-House– After Friday, October 13 – $70
LAIPLA Non-Member (Early Bird) – $120
LAIPLA Non-Member– After Friday, October 13 – $140

Small Firm/Solo Practitioners Fall Program (Includes Appetizers and Drink)
LAIPLA Member (Early Bird) – $50
LAIPLA Member – After Friday, October 13 – $70
LAIPLA Non-Member (Early Bird) – $80
LAIPLA Non-Member– After Friday, October 13 – $100

Young Lawyers Fall Program (YL Program Only)
No charge but registration required.

---
**Los Angeles Intellectual Property Law Association (provider # 2083) certifies that the Fall Patent Dinner and the Small Firm/Solo Practitioners Fall Program have both been approved for MCLE credit by the State Bar of California in the amount of 1.0 hours. The Small Firm event has been approved for 1.0 hours in Ethics.
Not an LAIPLA Member?

---
Panelists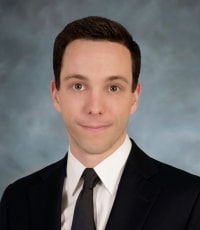 Robert Taylor
j2 Global, Inc., Los Angeles, California
Robert Taylor is Senior Corporate Counsel at j2 Global, Inc. (NASDAQ: JCOM), a cloud services, unified communications and digital media company. Robert's responsibilities include supervising litigation and intellectual property matters for the company and its subsidiaries. Prior to joining j2, Robert clerked for Judge Josephine Staton in the Central District of California and worked as an associate at Kirkland & Ellis LLP. As an associate Robert represented clients in intellectual property matters covering a wide array of technologies, including computer architecture, memory interfaces, Wi-Fi, cellular and SaaS. Robert was part of a team that ultimately obtained a FRAND licensing rate that received worldwide media attention, including in Law360 articles "Judge Sets low Royalty Rate for Essential Wi-Fi Patents" and "FRAND Rulings to Rein in Standard-Essential Patent Demands." Robert graduated from New York University School of Law and has a B.A. in Computer Science from the University of California, Berkeley.
Dominick Gattuso
Heyman Enerio Gattuso & Hirzel LLP, Wilmington, Delaware
Dominick Gattuso is a partner at Heyman Enerio Gattuso & Hirzel LLP, in Wilmington Delaware focuses his practice on corporate, intellectual property and complex commercial litigation. Dominick frequently serves as Delaware counsel to the nation's leading law firms in matters involving corporate and alternative entity disputes and intellectual property rights in state and federal court. He has successfully represented plaintiffs and defendants in patent, trade secret and trademark cases across a broad spectrum of subject matters, including pharmaceuticals (including ANDA matters), telecommunications technology and computer hardware and software technology, among others. In his role as Delaware counsel to some of the nation's preeminent IP litigation firms, Dominick joins his litigation experience with his knowledge of local practice and the judiciary in the District of Delaware to provide sound advice, support and guidance to trial teams. In addition to his litigation practice, Dominick counsels Delaware entities and their governing bodies on issues relating to corporate governance and fiduciary duties.
Dominick is AV Rated by Martindale-Hubbell, listed in Best Lawyers in America in the field of Corporate Law, and has been named as a "Delaware Super Lawyer" in the field of Intellectual Property Litigation.
Theodore Stevenson, III
McKool Smith, Dallas, Texas
Ted Stevenson is a seasoned trial lawyer and registered patent attorney at the law firm of McKool Smith with more than 25 years of courtroom victories in high profile patent infringement and technology cases. Ted has personally tried over 20 patent infringement and trade secret cases in federal district court. Ted has also handled ITC section 337 trials before the International Trade Commission and has advocated in numerous arbitrations. Ted's clients, who he has represented in multi-million and multi-billion dollar disputes, include Ericsson, Nokia, AT&T, Unwired Planet, Medtronic, and Electronic Data Systems. Ted has been described by Chambers as "a fantastic trial lawyer" with "an excellent courtroom reputation." Some of Ted's trial wins include three nine-figure jury verdicts in patent infringement cases. Although the majority of Ted's cases have been filed and tried in Texas, Ted has also handled cases in the Central and Northern Districts of California, Delaware, Florida, Nevada, and Washington.
Ted is consistently recognized as one of the best patent litigators in the country which includes recently being named the 2016 Texas "IP Litigator of the Year" by Managing IP, 2017 Dallas Lawyer of the Year in the area of trade secrets, one of the five "go-to" intellectual property litigators in Texas by Texas Lawyer Magazine, and consistently ranked in Band 1 of Chambers Guide. Ted graduated from University of Virginia School of Law and has a B.S. in Mechanical Engineering from Northwestern University. He enjoys teaching trial advocacy, which he does as a faculty member of the National Institute of Trial Advocacy and also as a presenter at legal seminars.
Steve Hanle
Stradling Yocca Carlson & Rauth LLP
Steve Hanle is an intellectual property litigator at Stradling in Newport Beach and chairs the firm's intellectual property department. Steve's practice focuses on patent litigation in a wide variety of technologies, including medical devices, pharma, high tech, electrical and mechanical. He has litigated and tried patent cases in district courts throughout the United States. Steve has briefed and argument numerous cases in the Federal Circuit. He is the former president of the Federal Bar Association in Orange County and is a founding Master of the Markey Intellectual Property Inn of Court. Steve has a B.S. from UCLA and his J.D. from Loyola Law School.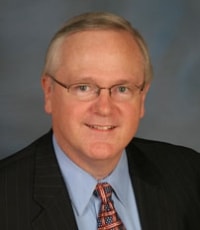 Neil Pedersen
Pedersen Law
Neil Pedersen is the principal of Pedersen Law, an Irvine litigation firm. The firm presently employs three attorneys dedicated to representing individuals and entities in employment, insurance and business litigation, as well as providing general counsel services to small and medium sized companies.
Neil graduated magna cum laude from Western State College of Law in 1988 as co-Valedictorian and Editor-in-Chief of the Law Review. He was inducted into that school's Alumni Hall of Fame in 2010. Neil's present primary area of practice is the representation of employees in harassment, discrimination and retaliation litigation, as well as active supervision of all other litigation and general counsel services provided by his firm.
---
Questions? Contact the LAIPLA office at office@laipla.net or call 323-285-1654

Sponsor: Small Firm/Solo Practitioners Fall Program
SafeHouse Web is a professional website design and digital marketing company, established in 2007. Working alongside small and medium sized law firms, our core services include digital marketing strategy and execution, website & graphic design, social media management and search engine results. High performance search engine optimization drives growth for law firms; ranking well on Google and other search engines is important to the success of all our clients. Our search engine optimization services have durable, proven success. Our methods are based on tried-and-true process and best practices.