LAIPLA Annual Meeting and Patent Litigation Dinner 2017
---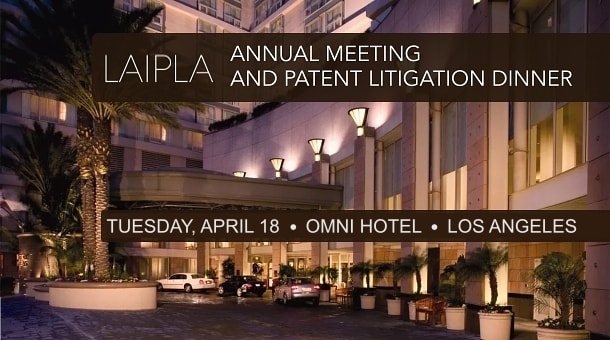 LAIPLA Annual Meeting and Patent Litigation Dinner + Young Lawyers Event
Topic: "Will Halo V. Pulse Spark A Revival In The Procurement And Use Of Non-infringement Opinions?"
Date: Tuesday, April 18, 2017
Time: 5 PM – 8 PM
5:00-6:00 PM Young Lawyers Event
6:00 PM Reception
6:30 PM – 8:00 PM Patent Litigation Dinner and Program
Location: Omni Hotel, 251 S. Olive Street, Los Angeles, CA 90012
LAIPLA is proud to present "Will Halo v. Pulse Spark a Revival in the Procurement and Use of Non-infringement Opinions?" featuring a panel discussion with Seth Weisberg, the Chief Legal Officer of Stamps.com, Sarah Brooks of Stradling Yocca, Carlson & Rauth and Steven Smyrski of Smyrski Law Group, PC. The panel will discuss the renewed importance of non-infringement opinions as a potential bulwark against a willfulness finding in the wake of Halo Elec., Inc. v. Pulse Elec., Inc., 136 S. Ct. 1923 (2016).
There will also be a Young Lawyers Event from 5:00-6:00 PM.
PRICING
Judiciary: No Charge
In-House and Government Attorney: $50
Member: $75 Early Bird, After 4/8/17 – $90
Non-Member: $90, After 4/8/17 – $105
Entrée: Chicken, Fish or Vegetarian
Attire: Business
PARKING
Hotel Valet Parking: $15
**This activity is approved for 1.0 hours of MCLE credit by the State Bar of California.

---
Annual Meeting – 2017 Nominees for the Board and Officers
This meeting will be the Annual Meeting of the Association. Pursuant to Sections 8.1 and 8.2 of the LAIPLA Bylaws, the 2017 LAIPLA Nominating Committee has selected the following slate of nominees for presentation at the Annual Meeting:
President: Mark A. Treitel, Quinn Emanuel Urquhart & Sullivan LLP;
Vice President: Laura M. Burson, Sheppard Mullin Richter & Hampton LLP;
Secretary: Sarah S. Brooks, Stradling Yocca Carlson & Rauth, P.C.;
Treasurer: Theodore W. Chandler, Sidley Austin LLP;
Director: Alexander C.D. Giza, Hueston Hennigan LLP
Director: Christopher Jackson, Warner Bros. Entertainment Group of Companies; and
Director: Erol C. Basol, Morrison & Foerster LLP
LAIPLA encourages all members to attend the Annual Meeting and to get involved in LAIPLA committees in the upcoming year.
---
Panelists
Seth Weisberg,   Seth Weisberg has served as Chief Legal Officer and in other positions at Stamps.com since 1999.  Prior to joining Stamps.com, Mr. Weisberg was an associate at Irell & Manella LLP, worked as a software developer and founder at Shortcut Software, and created physical computer models at RAND Corporation.  Mr. Weisberg holds a law degree from Columbia Law School, a master's degree in History from Harvard, a bachelor's degree in Physics and Astronomy from Harvard and a General Course Certificate from the London School of Economics. 
Sarah S. Brooks, Sarah Sheldon Brooks is a shareholder in Stradling's intellectual property practice. Ms. Brooks specializes in litigating intellectual property disputes. Ms. Brooks has successfully tried cases in Federal Court, including obtaining a willful infringement jury verdict in 2013 for a client in the U.S. District Court for the Central District of California. Ms. Brooks is also a frequent presenter for the CA State Bar Intellectual Property Law Section and recently presented on "Patent Clearance Strategies in the Wake of Halo and Stryker Decisions."
Steven Smyrski, Steven W. Smyrski currently prosecutes patents in various fields while offering significant litigation experience.  Steve has practiced patent law for 25 years and has authored a number of written opinions.  Steve counsels clients on various patent related issues, and his practice includes preparing infringement, invalidity, and freedom to operate opinions in various technology areas.
Moderator
Philip Graves, Mr. Graves is Of Counsel with Hagens Berman Sobol Shapiro LLP, one of the country's largest class action and contingency firms, and head of the firm's IP group.  He has more than 20 years of experience as a patent litigator and trial attorney, and has represented companies in patent cases concerning a variety of technical fields including network security, medical devices, digital signature and encryption technologies, nano-scale manufacturing and biotech, among many others. 
---

Questions? Contact the LAIPLA office at office@laipla.net or call 323-285-1654