Spring Seminar 2015
---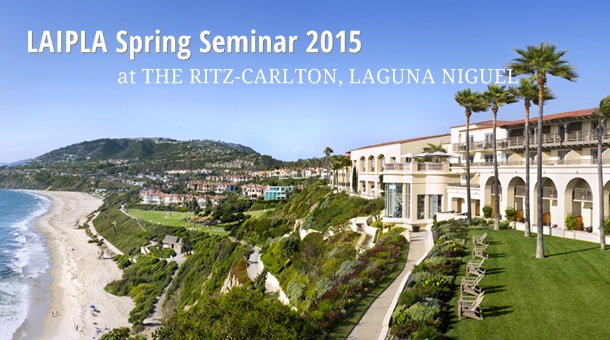 LAIPLA is proud to announce its 2015 Spring Seminar at the beautiful Ritz Carlton, Laguna Niguel, on the cliffs above Salt Creek Beach. Bring your guest or family for an unforgettable weekend!
2015 Spring Seminar – LAIPLA Hits the Beach!
Dates: Friday, May 29, 2015 to Sunday, May 31, 2015
Location: The Ritz Carlton, Laguna Niguel
The Los Angeles Intellectual Property Law Association is the premier intellectual property law association in Southern California, and its history goes back decades. Since 1934, LAIPLA has been educating and connecting members of the intellectual property legal community.
In celebration of the association's eightieth season, LAIPLA is pleased to announce that it is taking its annual Spring Seminar back to the Ritz Carlton, Laguna Niguel. Please join us for the premier LAIPLA event of the year, featuring panel discussions and individual presentations on the latest developments in intellectual property law. Spring Seminar also provides excellent networking opportunities at cocktail receptions and dinners, and allows sufficient time for relaxation and enjoyable outdoor activities.
Brochure:
LAIPLA Spring Seminar 2015 Program
LAIPLA Spring Seminar 2015 Schedule of Events
Mobile-Friendly Program Brochure:



Spring Seminar 2015 will feature panels on the following topics:
Year in Review – Patent,Trademark, and Copyright
Emerging Trends in the Digital Space
Hot Topics and Emerging Trends in Inter Partes Review
Keynote Speech from USPTO Silicon Valley Office Director, John Cabeca
Perspectives from the Bench
Elimination of Bias
Legal Ethics
Confirmed speakers for Spring Seminar 2015 include judges, academics and nationally renowned practitioners:
Paul Bergman, UCLA School of Law
Richard Bone, VLP Law Group
Devon W. Carbado, UCLA School of Law
Dennis D. Crouch, Univ. of Missouri School of Law
Hon. Jay C. Gandhi, C.D. Cal
Scott R. Hansen, Western Digital and LAIPLA Vice President
Rachel Capoccia, Alston & Bird
Joseph R. Re, Knobbe, Martens
David Nimmer, Irell & Manella
Lisa P. Ramsey, USD School of Law
Zach St. Martin, Sony
Hon. James V. Selna, C.D. Cal
Ben Sheffner, MPAA
John Cabeca, USPTO
Matthew A. Smith, Turner Boyd
Teresa Stanek Rea, Crowell & Moring, Former Acting and Deputy Director of USPTO
Robert Green Sterne, Sterne, Kessler
Paul D. Tripodi II, Wilson Sonsini
Hon. George H. Wu, C.D. Cal
Mitra Eskandari-Azari, CBS
Event Location:  A celebrated icon along the California coast, today The Ritz-Carlton, Laguna Niguel boasts a newly re-imagined and modern vibe. Perched timelessly atop a 150 foot bluff, against cascading views of the Pacific Ocean,the hotel is tailor-made for travelers who desire a playful approach to Laguna luxury. Discover a surfside retreat that awakens the senses with its unique beachfront setting and remarkable service heritage, located halfway between Los Angeles and San Diego, along the coast of Dana Point.
Call The Ritz-Carlton, Laguna Niguel reservations at (800) 930-5146 or go online at https://bit.ly/ritz2015. When making reservations, please mention the LAIPLA Seminar to receive our negotiated rate of $299/night. If you want to make a longer vacation out of your trip, you can! Conference attendees can use our negotiated rate anytime between Wednesday, May 26 and Tuesday, June 2, subject to availability. The deadline for our negotiated rate is April 28, 2015, but the room block may be fully taken by then so act now to reserve your spot.
Included in the room rate are internet access, Business Center access and access to the Fitness Center, use of the tennis courts (reservations required) and complimentary garden tours through the Eco-Adventure Center. Childcare may be arranged for Friday and/or Saturday nights by contacting The Eco-Adventure Center.
The activities have been approved for Minimum Continuing Legal Education credit by the State Bar of California in the amount of 8.5 hours with 6.5 general, 1 ethics, and 1 elimination of bias. The LAIPLA certifies that this activity conforms to the standards for approved educational activities prescribed by the rules and regulations of the State Bar of California Governing Minimum Continuing Legal Education and that LAIPLA is a State Bar of California approved MCLE provider.
Pricing for Spring Seminar 2015:
Member Early Bird (registration by 4/20/15): $925
Member Regular (registration between 4/21/15 and 5/20/15): $995
Member Late (registration on or after 5/21/15): $1050
Non-Member Early Bird (registration by 4/20/15): $995
Non-Member Regular (registration between 4/21/15 and 5/20/15): $1095
Non-Member Late (registration on or after 5/21/15): $1150
In-House Counsel Early Bird (registration by 4/20/15): $625
In-House Counsel Regular (registration between 4/21/15 and 5/20/15): $695
In-House Counsel Late (registration on or after 5/21/15): $750
Student Early Bird (registration by 4/20/15): $500
Student Regular (registration between 4/21/15 and 5/20/15): $570
Student Late (registration on or after 5/21/15): $625
Activities:
The Ritz-Carlton Spa, Laguna Niguel, offers guests a variety of soothing treatments inspired by the sea.  Due to high demand for spa services, we suggest you contact the spa well in advance of your arrival to book desired treatments.  Spa reservations can be made at 949-240-2000. www.ritzcarlton.com/lagunaspa
The Ritz-Carlton, Laguna Niguel presents eco-adventures, fun things to do that inspire you with Orange County's unique ecosystems and connect your spirit to their larger global systems. Lots more information for individual and family activities from Garden Tours to Kids Adventures at www.bit.ly/ritzecoadventures.
We are also organizing a golf outing for Saturday afternoon. If you are interested in joining, please sign up using brochure or online registration. Contact Jenny Weston-Newman at office@laipla.net with any questions.

Questions? Contact the LAIPLA office at office@laipla.net or call 323-285-1654
---
---
Sponsors of this event
Saturday Dinner Sponsor

Advanced Discovery is an award winning, end-to-end eDiscovery software andservices provider, supporting law firms and corporations nationwide since 2005.Advanced Discovery offers project planning and budgeting, data preservation andforensic collection, early case assessment, hosted review, managed documentreview and more from its numerous state-of-the-art facilities across thecountry. The company employs leading professionals in the industry, applies provenworkflows and provides industry-leading technology across all aspects of thee-discovery lifecycle. This devotion to excellence has earned AdvancedDiscovery an 85 percent repeat client rate, inclusion on the Inc. 5000 list offastest growing companies in the U.S., and recognition as a top provider byLegal Times, TexasBest and other industry publications.
Friday Entertainment Sponsor
Cocktail Reception Sponsor
PracticalLaw is a Thomson Reuters legal solution offering in-house, law firm andgovernment lawyers the know-how needed to practice more efficiently, improveclient service, and add more value. Practical Law content is created with thefront-line lawyer in mind. Our trusted resources include continuously updatedhow-to guides, annotated standard documents and clauses, checklists, toolkits,legal updates, state-specific guidance and more.
Thomson Reuters Expert Witness Services provides unsurpassed resources to locate expert witnesses for even the most complex IP disputes. Our case managers have advanced technical degrees, and take the time to thoroughly understand the technology at issue – so you can feel confident we've found the best expert for your case.

U.S. Legal Support provides court reporting, record retrieval, electronic discovery and trial support services to local and national law firms, major corporations and insurance carriers. We stand out in a field of many choices by offering tailored solutions and exceptional personalized service.
Golf Tournament Sponsor
TSG provides the highest quality court reporting services for depositions, arbitrations and hearings nationwide and worldwide. We provide live client service 24 hours a day, seven days a week, and only work with the best reporters in the business, each with a minimum of ten years experience. TSG also has centralized Calendar and Production departments to ensure that every deposition and all materials always receive the same high level of service and quality control so that a deposition held in Los Angeles will be serviced as seamlessly as a deposition held in New York or London.
President's Suite Party Sponsor
IMS ExpertServices is the nation's premier provider of experts and consultants for top law firms and Fortune 1000 companies. The company excels at searching out and connecting elite industry experts with attorneys in support of high-stakes business litigation.
Speakers' Dinner Sponsor

For over 20 years, ForensisGroup has provided the nation's top law firms with highly qualified expert witnesses and consultants. Experts referred by ForensisGroup have been thoroughly evaluated based on experience, education, track record, client feedback and much more. Over 8,000 clients have retained our experts in more than 10,000 cases nationwide. ForensisGroup takes a multi-disciplined approach, referring our clients to experts of various disciplines that may have an impact on the issues of the case. Clients benefit from free initial discussions with experts to gain better technical or scientific knowledge about their case. We offer free no-obligation recruiting.
Platinum Sponsors
Computers don't Lie, We make them Talk – Data Triage Technologies, LLC is highly regarded as a top computer forensic company since 2001. Our experts recover files, and analyze metadata and artifacts from computers, cell phones, databases and all types of electronic devices to give evidence from the computer's point of view. Accountability, authenticity and deliberate actions can be explained through our qualified experts with metadata, artifacts, and resurrected files.
Disco is all-in-one ediscovery software differentiated by 10x faster search and document viewing and lawyer-focused design. Disco includes full processing, early case assessment, hosted review platform with analytics, managed-services infrastructure, and unlimited digital productions. Play around with a live demo at demo.csdisco.com!
Inventus, LLC is one of the largest discovery management practices in the country, focused on helping clients reduce the costs and risks associated with the discovery process. Since 1991, it has been providing litigation support services to law firms, corporate legal departments and government agencies. Inventus currently has over 250 employees operating in 12 cities across the United States, with operational headquarters in downtown Chicago.
Founded by leading practitioners from long-established Intellectual Property firms, Meunier Carlin & Curfman focuses on the essential elements of IP legal practice. The firm works with small and large corporations, emerging growth companies, non-profits, universities, research institutes, and their capital and advisory partners, to secure, assert and defend their intellectual property rights. For more information, visit www.mcciplaw.com.
Navigant (NYSE: NCI) is a specialized, global professional services firm dedicated to assisting clients in creating and protecting value in the face of critical business risks and opportunities. Through senior level engagement with clients, Navigant professionals deliver expert and advisory work through implementation and business process management services. The firm combines deep technical expertise in Disputes and Investigations, Economics, Financial Advisory and Management Consulting, with business pragmatism to address clients' needs in highly regulated industries, including Construction, Energy, Financial Services and Healthcare. More information about Navigant can be found at navigant.com
Sheppard Mullin was founded in 1927 on the principle that the firm would succeed only if its attorneys delivered prompt, high quality and cost-effective legal services. Today, Sheppard Mullin continues to be guided by this philosophy and has grown to over 600 attorneys in 16 offices all around the world. We are well positioned to help companies both protect their intellectual property rights and exploit their commercial potential. We represent clients ranging from Fortune 500 corporations to deserving start-ups and individuals across a wide spectrum of industries. Our attorneys are consistently recognized as being leaders in the field and have the experience to handle any of our clients' intellectual property needs.
Gold Sponsors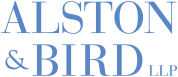 Alston & Bird attorneys draw on more than 90 years of commitment to intellectual property as a specialty practice. With a national practice of over 170 attorneys dedicated solely to the practice of IP law, our breadth and depth of expertise have earned us global acclaim. Our attorneys are leaders in their specialties, keeping abreast of new developments and market trends and serving as thought leaders sharing ideas through speaking engagements and publications worldwide. Alston & Bird's IP practice is recognized as a leader in providing exceptional client value and client service. In August of 2012, our IP Litigation Group was one of three in the United States deemed an IP Litigation Powerhouse by the BTI Consulting Group.

Minesoft is a global patent information solutions provider. Our solutions encompass IP research, monitoring and analysis, IP document retrieval, patent archiving and competitive intelligence systems. Our strong in-house development team continually enhances a product range that is at the forefront of today's patent information sector, including PatBase (a global patent database), Patent Order (a rapid patent document delivery service) and PatentArchive (a patent information management system). Minesoft clients include leading patent-litigating law firms, patent attorneys, national patent offices and large corporations from around the world.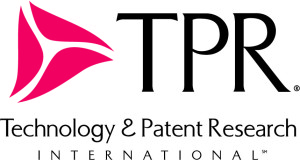 This year marks TPR International's 20th anniversary in providing global patent and non-patent literature searching and analysis conducted by unrivaled patent information experts. TPR's expertise helps our clients receive stronger references in an actionable report with cost-effective strategies that help save them time and money. Rely on TPR for freedom-to-operate, validity, competitor alerts, landscapes, and other critical searches to develop and protect your patent portfolio. In addition to searching online databases and international patent offices, TPR can locate prior art in local languages at universities, hospitals, and special libraries around the world.
Verdict Success delivers credible analyses in consumer surveys and jury studies. Our services – trademark confusion surveys, case evaluations, jury selection, and trial presentation – are effective litigation tools for legal teams. Our solid science and depth of experience, combined with seasoned insight, produce reliable knowledge and effective strategies to facilitate results. For more information contact Dr. Cynthia Cohen at 310.446.4555 or ccohen@verdictsuccess.com
Silver Sponsors
Since its founding in 2008, Article One Partners (AOP) has become the world's largest intellectual property (IP) research community. By leveraging a growing crowd of over 30,000 researchers, AOP has revolutionized the transparency of IP-related data. Through crowdsourcing and other techniques, AOP provides clients with access to insightful information to help them make the best possible IP related business decisions whether they are innovating, defending or monetizing their IP portfolios. The company has paid their research community more than $6M for their skilled work at identifying patents, non-patent literature and non-textual content to inform IP decisions. AOP helps 16 Fortune 100 companies and eight of the top ten US patent filers to improve their patent quality and strategic management of their IP across the IP lifecycle.

From its inception, BSTZ has played a major role in helping clients develop new ideas and bring them to market. We continue to protect the fruits of our clients' imaginations by providing excellence in legal counsel and successfully meeting the diverse needs of our clients in the 21st century. We serve our worldwide clients from 6 US regional offices: Silicon Valley (Sunnyvale), California; Orange County (Costa Mesa), California; Portland (Beaverton), Oregon; Los Angeles, California; Seattle, Washington; Denver, Colorado.

Dolcera is a global IP research and analytics company, based in Silicon Valley. With over 11 years of extensive searching experience and the subject matter expertise of over 150 analysts, Dolcera serves its over 100 clients in patent litigation and prosecution analysis.
Dolcera's experts utilize our proprietary software suite to conduct comprehensive and fine grained analysis while identifying hard to find prior art. Dolcera's competitive pricing, and state of the art visualization tools also help Dolcera's client get the best value for their money in partnering with an outside search firm.
Please visit our booth to learn more about how you can partner with Dolcera to scale your efforts in IP prosecution, litigation, and portfolio management research & analysis.

Kroll Ontrack provides technology-driven services and software to help legal, corporate and government entities as well as consumers manage, recover, search, analyze, and produce data efficiently and cost-effectively. In addition to its award-winning suite of software, Kroll Ontrack provides data recovery, data destruction, electronic discovery and document review. Kroll Ontrack is a subsidiary of Altegrity, an industry-leading provider of information solutions. For more information about Kroll Ontrack and its offerings please visit: www.ediscovery.com or follow @KrollOntrack on Twitter.
Bronze Sponsors
Dennemeyer is a leading partner in intellectual property (IP) management. Our worldwide service range comprises both legal and portfolio services, as well as strategic IP consulting and cutting-edge software solutions for effective IP management.
Miller Barondess brings a laser focus to litigation matters. Our experience and success set us apart from other firms. Our attorneys are equipped for the courtroom. We know how to connect with judges and juries to get great results. Our commitment is simple: we understand clients' needs; find innovative solutions; achieve client goals; and do so in an efficient manner. We are dedicated to client service.
Our intellectual property clients come in all sizes—from the largest global companies to individual entrepreneurs. What they have in common are big ideas. For the last 40 years, Morrison & Foerster has been synonymous with big ideas in intellectual property. Our intellectual property practice regularly ranks as one of the top IP practices in the U.S., and was named "IP Firm of the Year" byChambers USA and "IP Practice of the Year" by Law360 in 2013. Our clients benefit not only from the courtroom prowess of our litigators—and their abilities to resolve disputes short of trial—but also from our experienced patent prosecutors and technology transactions specialists who bring their sophisticated technical insights to bear in shaping and implementing our clients' IP strategies. With more than 250 IP practitioners, Morrison & Foerster has the size, talent, and global presence to handle any issue of IP law.

Stradling represents businesses seeking premium quality and service for critical transactions and disputes. With over 125 attorneys in 8 offices, we have earned our reputation as a leading west coast business law firm.
Trademark Access is a law firm of trademark attorneys providing federal trademark registration services to all 50 states and US territories.